Young Carers Action Day was on Wednesday 15 March 2023. It is an annual event organised by Carers Trust.
We have been speaking to young carers about their experiences, and are involved in a range of activities to support and make a difference to young carers.
See some of what the young carers have told us, and more about our work, including the young carers in education summit, below.
Do you want to stay updated on the latest news and information for carers of all ages? Sign up here.
| | | |
| --- | --- | --- |
| Iyla's story | | George's story |
| Liam's story | | Eva's story |
| | | |
| --- | --- | --- |
| Nathaniel's story | | Sarah's story |
Last year we spoken to young carers about how GPs and health professionals can make a difference to them. Click here to find out more about this.
Young carers speak out at education summit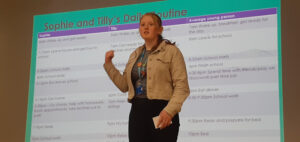 Young carers from across Norfolk had an opportunity to speak out about how caring affects their education at our Young Carers in Education Summit on Friday 10 March.
Around 70 people including young carers and young adult carers, Norfolk schools, Norfolk County Council and youth organisations attended the event at Wymondham High Academy.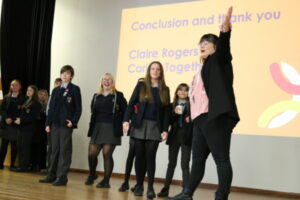 The audience heard:
how many young carers struggle to complete their homework
of the worry about the person they help care for during lessons
how young carers can sometimes feel stressed and tired if they are having a difficult time caring, which affects their concentration in class.
Schools were also among the presenters.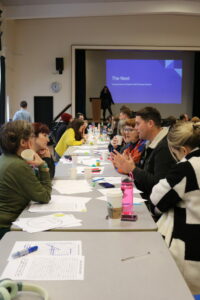 A number of Norfolk primary and secondary schools who hold our Carer Friendly Tick Award, also had the opportunity to showcase the good work they are doing to identify and support young carers within their school.
For example, many have young carers groups with guest speakers and fun activities, provide breakfast if needed and issue exit passes for emergency appointments.
You can also see more about our work with schools through the Carer Friendly Tick Award and more by clicking here.
Young Carers Challenge for schools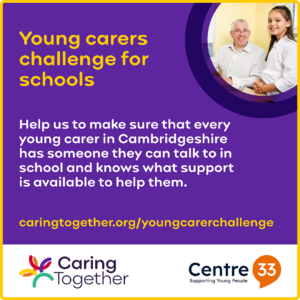 From spring 2023, young carers are for the first time going to be included on the school census return. This will provide a much better picture of the number of young carers in schools, but also presents opportunities to use this data to monitor attendance and attainment of young carers.
As well as identifying young carers it is important they are then given the support they need.
Click here to find out how schools can be involved in our Young Carers Challenge.
Breaks and support for young carers
Young carers being able to take time away from their caring role, spending time with their peers, and enjoying the normal activities for people their age is hugely important, and part of our work.
We run regular activities for young carers and young adult carers across Cambridgeshire, Peterborough and Norfolk. You can see more at caringtogether.org/events
You can see our young carers page for detail of other support available to young carers. Or contact us if you want to know more.
Showing how GPs can make a difference to young carers
Young carers say they feel invisible and often in distress, with up to 40% reporting mental health problems arising from their experience of caring.
Young carers should not feel they are struggling to cope on their own. And that is why Caring Together worked with an NHS England and NHS Improvement campaign to show GPs how they can make a difference to young carers. Learn more at caringtogether.org/news/showing-how-gps-can-make-a-difference-to-young-carers
Young carers and young adult carers have also taken part in videos where they talk about their experiences:
App for young carers
Young carers need proper support around them to make sure they're able to care for their loved ones while taking care of their own physical and mental health, and working towards a bright and healthy future.
The Young Carers Support app enables young and young adult carers in the UK to find information and advice, self-help resources, wellbeing tips and activities, plus a catalogue of support services – all in one place.
Caring Together and partners, Centre 33 and Carers Matter Norfolk, have worked with Expert Self Care Ltd, to ensure there is also local information available for young carers in Cambridgeshire, Peterborough and Norfolk. The App is free and available for any young carer, or professional working with young carers to download on Android and iOS.
Resources from Young Carer National Voice
Young Carers National Voice campaigns collectively on the issues that are important to young carers.
They have recorded a poem that highlights the types of situations faced by so many young carers.
You can also here to play the Who A I Poem recorded by Young Carers National Voice.
They have also produced:
Young Carers Alliance
Caring Together is proud to have been one of the founding members of the Young Carers Alliance.
At the time the Young Carers Alliance was launched on Young Carers Action Day 2022 it was more than five years on from the introduction of formal rights for young carers, and young adult carers.
You can visit the Young Carers Alliance website to: