If you work in education then it is important you are able to recognise the pupils and students that you have who are carers and young adults carers.
Being a carer can be a demanding role, and it may not be one they feel readily able to speak about at first. It can have an impact on their ability to concentrate, complete work or take part in wider activities due to the demands on their time and energy.
But you can see below some of the resources available to you including relating to young carers now being part of the school census, resources for activities and awareness raising in your school and how the Carer Friendly Tick Award can recognise your work to identify and support carers.
Free resources for you to use
We have resources available for use by you in your setting. These can help people realise they are a carer, and know how to get the support they need. If you would like to request free resources such as posters and leaflets giving information on our support for carers, please click here
Carer Friendly Tick Award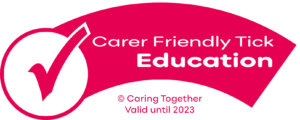 Our Carer Friendly Tick Award recognises organisations who work to identify and support carers.
There is a category specific to education – whether you are a school, college or university we can work with you to help you achieve the award. Click here to view more about the Carer Friendly Tick Awards.
See Belinda explain more about the Carer Friendly Tick Award – Education.
Other resources and support for you
Information on specific projects can be found below.