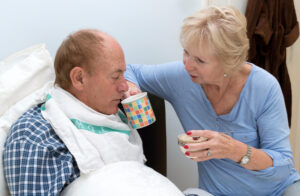 Our carers speak out website page is your opportunity to have your voice heard. Every day people looking after a family member or friend tell us how difficult life can be for carers. And many carers feel they are invisible and not heard – we are committed to changing that.
Our team regularly speak to and support carers who are in crisis, or who are one change of circumstance away from a crisis situation. It is essential more people are aware of what being a carer can be like, and how the right support can make the difference between crisis and a carer being able to cope.
We want to share your experiences of what led to your crisis, or near-crisis, and the importance of the right support to help you in these situations. Last year we produced our first Carers Speak Out report (see below) and we will be doing the same this year. So please do give your views.
Carers call for urgent action
For Carers Rights Day 2022 we produced a report based on what you, carers, have told us through our carers speak out website and are sharing it with local MPs, Government ministers, local authorities and others.
Continue to speak out
We are continuing to invite carers and former carers to use the carers speak out page to talk about the difficulties they face (or faced in the past) and tell the Government, other decision-makers and the public what needs to change to support carers better.
For example, you may wish to share your experiences of the specific challenges that winter and / or the cost of living crisis mean for you and the person you care for.
Whatever your caring situation and experience – be it good or bad, whether you're someone helping your partner, a parent caring for your child with additional needs, an adult caring for your parent, or caring for a friend – we want your voice to be heard.
It is quick and easy to add your comments to the page. Simply click on the Carers speak out button below and then click on 'Share your message'. You can also add a photo if you like.
You don't have to leave your name, or you could choose to just leave a first name.

Your feedback
We will continue to use your comments to raise awareness of issues affecting carers, shape our work and to call on others to make changes at both local and national level to improve carers' lives.
Although we will not be able to respond to posts individually, we will read every one. Your messages will help us campaign for better support and services for carers.
If you also want to speak to someone about your experiences, or are keen to get involved in ways of helping to improve support for carers, then email [email protected]
We Care Campaign video
We would like to share this powerful video from the We Care Campaign explaining why too often unpaid carers feel invisible and alone.  It also shows why our Carers speak out website page is so important.