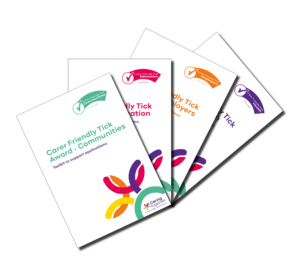 A key piece of our work to help carers is to raise awareness in the community with health, social care and education professionals, and employers.
Following on from the success of our Carer Friendly Tick Award – Education which was developed by young carers as part of Norfolk Young Carers Forum, we have extended this accreditation programme across Cambridgeshire, Peterborough and Norfolk to three other groups:
Community groups
Employers
Health organisations.
If your organisation wants support and guidance to work towards these awards and be given recognition for how you identify and support carers that you work with, then please email [email protected] or call us on 01480 499090
We can provide free support to help organisations through the Carer Friendly Tick Award process, from awareness-raising sessions, to useful resources, to examples of what similar organisations have done. We have toolkits available for each of the four categories of education, community groups, employers and health organisations which can help you with your application.
When we receive completed applications, it is down to a panel of carers to read and assess applications and decide whether enough has been done for the award to be given.
Awards last for two years, at which point award-winners will need to submit an update to show how they are still meeting the standards.
Please click here to view the hall of fame of all organisations that hold the Carer Friendly Tick Award.
Schools can also see our young carers awareness raising resource pack for EYFS/key stage 1.
Find out more
You can download the standards for each type of organisation below