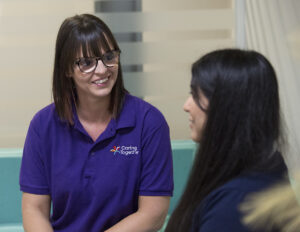 We would love to chat to you about the opportunities we at Caring Together have for you, whether you are interested in working or volunteering with us.
Please provide the following information and someone from our friendly recruitment team will be in touch. You can view our jobs page to see more about current vacancies, but please do contact us for a chat about the different opportunities we may have for you.
If you would like to send across your CV so you can talk it through with us, you can email it to us at [email protected]
And if you would like to see more about the homecare we provide, please click here.
Arrange a chat
By submitting this form you are agreeing to us contacting you to discuss employment or volunteering opportunities at Caring Together and holding your data in accordance with our privacy policy.