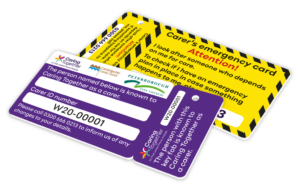 It is valuable for people looking after a family member or friend to be identified as a carer.
The Caring Together carer's card is a good way for you to be identified a carer, whether this is when you are at the shops, GP surgery, pharmacist or other places. (We would also recommend you make sure that the GP of the person you look after is aware you are their carer).
For carers in Cambridgeshire and Peterborough who have a What If? Plan with us – a plan which can be activated if something happens which means they cannot carry out their normal caring duties – the card is dual purpose. We recommend registering for a What If? Plan if you are eligible.
In Norfolk a Carers Identity Passport is available for use in health and social care settings, and emergency planning is also avaialble – see details below.
If you don't yet have a carer's card you can find out more by emailing us at [email protected] or by calling 0345 241 0954.
Registering for a What If? Plan
If the person you look after lives in Cambridgeshire or Peterborough you can register a 'What If? Plan' with us.
The What If? phone line is then available for you to call 24-hours a day if you need to activate your plan. This includes us getting in touch with a named contact, such as another family member or friend, to make them aware of the situation and to put the agreed plans into action.
If you are a carer who is caring for an adult, we can also provide urgent support to the person you care for, in the event of you being unable to care for them.
This free service is funded by Cambridgeshire County Council and Peterborough City Council.
Find out more at caringtogether.org/whatifplan
Emergency planning and Carers Identity Passport in Norfolk
If you want to know more about our emergency planning support including how to register an emergency plan in Norfolk please click here.
Carers Identity Passport is also available in Norfolk. This is currently recognised within East Coast Community Healthcare, James Paget University Hospitals, Queen Elizabeth Hospital King's Lynn, Norfolk and Norwich University Hospitals, Norfolk and Suffolk Foundation Trust and Norfolk Community Health and Care Trust.
To find out more or request your passport go to www.carersvoice.org/carers-identity-passport/
CarerSmart
If you are looking for carer's cards you may have come across CarerSmart. CarerSmart is a Carers Trust club that is open to carers, people with care needs and staff and volunteers from across the Carers Trust network. Joining is simple and free. And once you're a member, you'll be able to benefit from a wide range of offers. Find out more about CarerSmart in our directory.