Could you support unpaid carers like Susan? Through your regular gifts you will be providing vital support to carers facing immense challenges.


Susan's story of becoming a carer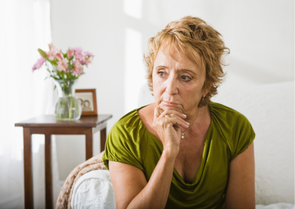 Susan's husband Alan was diagnosed with Primary progressive MS in 2004, when he was still a practicing lawyer and Susan was running her own theatre company. Susan describes how they were living life at full throttle, until life as they knew it came to a 'crashing end' with his diagnosis.  Although Alan's deterioration was slow at first, this has accelerated and he is now confined to a wheelchair and very frail. Susan is his full-time carer although she also has Crohn's Disease and has her own serious health problems. For Susan, it feels as though they have been cheated of precious time to enjoy life.
It's all been stolen from us
"There's an overwhelming sense of loss and grief and bereavement, because all that should have been, hasn't been. Especially when couples say they're just retired and they're going to get a Winnebago or they're going to buy somewhere in Spain, or they're going on this holiday or they're going to take up golf, whatever it is it sort of hurts now because that's all been stolen from us."
Thankfully we are able to support Susan. She goes to one of our regular carer hubs to meet with other carers and get support, and to enjoy breaks from her caring role on outings and day-trips. Even during the pandemic, when the hubs had to meet online, the support continued.
"I've really valued the carers hub and during the pandemic we met over Zoom which was brilliant. It was nice to see friends and it was nice to have time to say what the issues were and to get Laura's (the Caring Together Adviser) support and advice. And if there was a real problem she'd always so, 'Oh I'll ring you later' or 'I'll Zoom you on your own' to talk that issue through, so we all felt supported and listened to. That does ease that sense of loneliness and isolation that you're dealing with it on your own."
You can help us support people like Susan by becoming a Carer Friend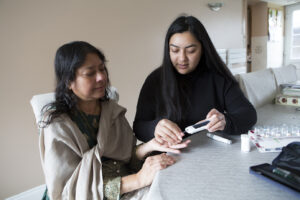 Carer Friends are people who want to stand with carers of all ages (including children who care) across Cambridgeshire, Norfolk and Peterborough. By giving a donation of £5 per month or more, your kind gifts will help to provide essential services such as:
Advice and support from our helpline
Hubs where carers can meet, receive information, and make friends
Emotional support from our counselling services.
As a Carer Friend you will receive a special badge, and a Carer Friend newsletter twice a year to tell you about the difference your support is making. You will also be invited to a free session with our team to find out more about the different types of roles carers may have.
You may be a carer yourself. Becoming a Carer Friend is a way to support other carers in your community. Or you may simply want to make sure those whose lives are turned upside down by caring receive support.
Click the button below to become a Carer Friend today!


Susan's story is true but her name has been changed to protect her confidentiality.