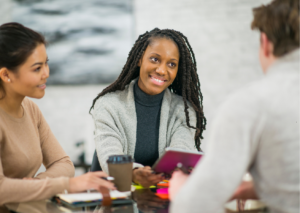 Every day, 600 people give up work because of the challenges of juggling work and caring for someone. With at least one in seven of all workers thought to be caring, this is a challenge facing companies and organisations right now.
Figures released from the 2021 Census suggest that in Cambridgeshire, Peterborough and Norfolk there are nearly 75,000 employees currently juggling paid work and caring. Over the next two decades, the number of carers in the UK is expected to grow as our population ages.
You can request your copy of our FREE awareness film below
We will also send you a FREE copy of our Carers Leave Act Factsheet to help you understand the new law, which entitles unpaid carers to a week of unpaid leave each year, and how you can be ready for that.
Why is this important for companies?
If unpaid carers in your workforce are not recognised and supported this will adversely affect your productivity and effectiveness. You may lose valued, experienced staff and ultimately it will reduce profits.
But we don't have any unpaid carers!
You probably do, but don't know it yet. If you don't now, you will do in future.
Many unpaid carers do not even recognise themselves as a 'carer'. They think 'I'm just looking after my daughter/son/partner/parent'.
Some are afraid of telling their employer about their caring role as they fear being looked over for promotion or training, or their employer thinking they may be unreliable.
What might be the effect on my team members – if they are carers?
Stress and worry – the challenges of juggling work and caring can simply feel too much. For example, anxiety about being late home from a meeting which means a disabled child becomes distressed, can make work feel too much even though the employee loves their job.
Burnout and exhaustion – many unpaid carers use their lunch breaks and Annual Leave to look after someone, for example to take them to hospital appointments or pick up prescriptions for them. They never get a proper break. This affects wellbeing which can affect attendance and productivity at work.
Jobseekers will look elsewhere – potential new recruits will look at how companies will support them as a carer now, or should they become a carer in future, and it is supportive companies that they will choose.
Small changes at work can make a big difference to the quality of life of an unpaid carer. It can help them stay in a job they enjoy and develop their career, and can help you retain and attract skilled and talented people.
Where do I start?
We can offer you our FREE short film to circulate to your staff team. It's just eight minutes long and may help them realise they are an unpaid carer for the very first time.
Please complete the form above. We will send you a link to the film so you can:
Watch or circulate it on our website
Watch or circulate it on YouTube
Embed it on your own intranet or similar system.
In our email we will provide suggested text to drop into an email, staff newsletter or intranet to encourage team members to watch the film.