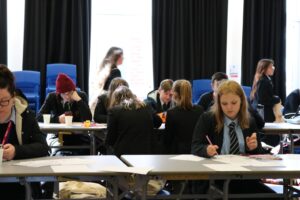 Do you work in a school, health centre, library or other community organisation?
You could be the first person to tell someone they are an unpaid carer and they don't have to struggle alone.
You could realise that the 'naughty' child who never seems to focus in class might be worried about mum who is sick, and who they help every evening.
You could tell a tearful husband that although his wife has dementia, as a carer he needs support too – and how he can get it.
As a local charity supporting unpaid carers, Caring Together can provide training and support so that you and your team become more carer aware, helping carers get the vital support they need much earlier.
Some of this training is free of charge, although there may be a waiting list.
We may be able to provide tailored online workshops and meet with you to equip you and your team.
You can also see information on supporting carers in a health and education setting.
The Carer Friendly Tick Award
We can also tell you more about our accreditation scheme – the Carer Friendly Tick Award – and how to go about applying for this. We can support your organisation to reach the standards and achieve the award.
Find out more about the Carer Friendly Tick Award.
If you are interested get in touch by emailing [email protected]