We are here for you
If the person you have been caring for has passed away, please don't feel that we can no longer support you. You are still a member of our community and in time your experiences may help others who are looking after someone. If we can help, please call us on 0345 241 0954
Remembering a loved one
When we lose someone close, we cherish the memories we have shared.
A tribute page is a special online place to remember a loved one and celebrate their life. It is easy to set up and completely free. The page allows friends and family, wherever they are, to share memories and pay tribute to a precious person who has passed away. As well as sharing stories, you can post photos, light virtual candles and make donations in their memory.

Gifts given in memory of a loved one are used to support carers of all ages across Cambridgeshire, Norfolk and Peterborough. They help us provide support groups, breaks from caring, advice through our helpline, and counselling support. They also enable us to help young carers who may be supporting a parent or sibling.
Gifts given at a time of sadness can bring joy and hope, making a positive difference for carers in our region.
Jo's donation in memory of Martin

Jo decided to make a donation of £100 to Caring Together in memory of her friend, Martin.

"Martin was a very special friend," Jo told us. "He taught me at school thirty years ago, and was a huge support and refuge when I was going through a very challenging time. As my English teacher and the school librarian, he shared with me a deep love and appreciation for books – he introduced me to many of my favourite authors. He was generous, kind and gentle, with an absolutely wicked sense of humour. We remained firm friends even after I left the school and he retired – being friends with Martin was truly a friendship for life. He had a deep love for Norfolk (he lived in Norwich for the last few decades of his life) and Cambridgeshire, and his pride in where he lived was evident every time we visited."

Jo said, "Giving to the work that you do in supporting carers is a very fitting way of honouring a man who spent a lot of time supporting and caring for the people around him."
The difference a tribute page makes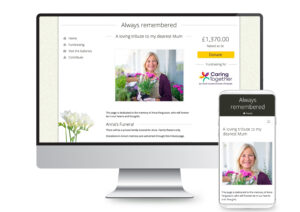 A tribute page is completely free and is your special online space to share memories, thoughts, photos and stories with your family and friends.
We have partnered with charity MuchLoved to provide these beautiful, personalised online spaces. They are easy to set up and you can visit as often as you like.
You can create your tribute page when you are ready, whether that is soon after someone has passed away or months later.
Any donations made on your page will provide support to unpaid carers of all ages across our region.

Other ways to give in memory of a loved one
You may like to have a funeral collection for Caring Together, perhaps instead of donations of flowers. We can supply cards envelopes to make it easier to collect your donations. Call us on 01480 499090 or email [email protected]
You can return the envelopes and donations to us or ask your funeral director to do so. Our address is:
Caring Together
L D H House
Parsons Green
St Ives
Cambridgeshire
PE27 4AA
And donations can be made online too.
You could choose to give a regular gift in memory. Click here to set up your regular monthly, quarterly or annual gift.
These special donations will be used to support unpaid carers of all ages across our region. It is a way of making a positive difference at a time of sadness and grief.
If you have any questions, please do contact us. We are here to help. Please contact Nicky Newton on [email protected], or by phone on 01480 499090