You can contact our carer helpline on 0345 241 0954 or email [email protected]
Carers hubs
These give all family carers a chance to meet with other carers, receive information and advice, as well as have a break from their usual caring role. Click here to learn more about carers hubs.
Parent carer workshops
We hold a range of free online workshops for parent carers, that range from benefits advice to safe relationship advice for young people.
Click here to see our latest parent carer workshops.
Family carers' prescription
Are you caring for someone and feeling emotionally or physically overwhelmed? Do you have your own health needs or medical appointment that you need to attend? Are you feeling close to crisis point? Please see how you may benefit from a family carers prescription.
Carers magazine and ebulletin
Our carers magazine is a great source of information about the range of support available across Cambridgeshire and Peterborough for all family carers. It includes details of lots of events for carers as well as articles and adverts promoting a wide variety of organisations who can provide support to carers. Click here to find out more about carers magazine.
We also send a regular email newsletter specifically for carers to keep you up to date on the latest news and information, including the support available to you. Click here to see more about inside news.
Carer's card
It has always been valuable for people looking after a family member or friend to be identified as a carer. The Caring Together carer's card is a good way for to help you be identified a carer, whether this is when you are at the shops, GP surgery, pharmacist or other places.
For carers who have a What If? Plan with us – a plan which can be activated if something happens which means they cannot carry out their normal caring duties – the card is now dual purpose. You can click here to find out more about our carer's card.
Transition planning – the move into adulthood
The time when a young person is transitioning into adulthood can be particularly difficult for parent carers. We have a parent carer lead who is working with parent carers from Pinpoint and Family Voice Peterborough to improve the information and support available for parent carers at this key stage.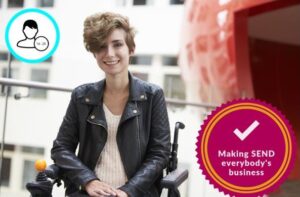 You can click here to download a leaflet about out how we can help support you as the young person you care for approaches adulthood [PDF, 322kB]
If you are a parent carer who would like to help us with this, please contact us at [email protected]
Family Voice Peterborough and Peterborough City Council have produced a helpful guide on preparing your child for adulthood.
You can click here to download the 'Preparing for adulthood – a parent' guide' [PDF, 1.68mb]
Local offer
All local authorities working with their partners must publish information about how children and young people 0 – 25 who have special educational needs and/or disabilities (SEND) are supported in their area. This is called a local offer.
You can find out more about what is available to you from Cambridgeshire County Council and Peterborough City Council by clicking here.
Cambridgeshire County Council has a section of the local offer that is all about support and information that may be of use to parent carers.
You can find out more about local support and information for parent carers by clicking here.
Benefits advice for parent carers in Norfolk
If you are a parent carer in Norfolk there is advice on benefits from Norfolk County Council available to you. Contact us and we can arrange for your to be referred for advice. Email [email protected] or call us on 0345 241 0954
For more specialist advice and support for parent carers
We signpost to the following organisations: