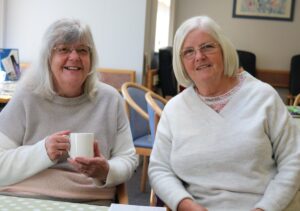 A gift in your Will (sometimes called a legacy) is a donation left to a charity in your Will. It is a lasting gift which means the causes you feel passionate about in life can continue long into the future.
Leaving a gift in your Will is a way you can support us, even if you are unable to make a donation at this time.
A legacy can be large or small and does not have to be a choice between your family, friends or Caring Together. You can easily include them all, providing security for loved ones and your continued support for carers across our region.
Some people choose to leave a legacy to make sure that others can receive the same support that they have received from Caring Together. Some want to make sure we can help carers who are currently struggling on their own. Some want to say 'thank you' in a very special way.
Caring Together has been supporting carers for 40 years. But our work is far from finished. Today, the need is greater than ever.
Every year we support 12,000 unpaid carers but there are 178,000 carers across our region – we are not reaching 93% of the people who need us. Many carers are struggling alone.
We cannot stand by and leave people in your street, your town, your community without support when they are doing such an amazing thing as caring for a loved one. But we can't do this without your help.
Leaving a gift in your Will is easy
To leave us a gift in your Will is easy. When you make or update your Will just give your solicitor our registered charity name and number.
Caring Together Charity
(known as Caring Together)
Registered Charity No. 1091522
The only decision you have to make is the type of gift you would like to leave us – which can be any percentage of your estate (1% to 100% depending on your circumstances) or an affordable sum of money. We know you will want to take care of loved ones first but it would be wonderful if you could also help carers across our region.
Our legacy promise
We promise:
To use your gift wisely and effectively.
If you want your gift used for a specific purpose, we will do our utmost to fulfil your wish.
We will never put you under any pressure to tell us your intentions but if you do tell us then we can say thank you!
If you would like any further information, please contact Nicky Newton on 07936 359122 or by emailing [email protected]
Finally, if you have already written Caring Together into your Will – thank you so much!