At Caring Together we provide information and advice, run services in our local communities and campaign so that carers have choices.
The people we support are carers like Ruth and her family. This is Ruth's story.
Ruth and her family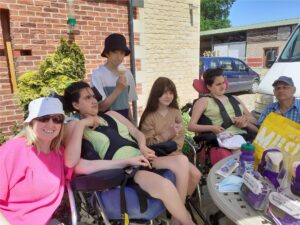 I am mum to Josie 15 and triplets Jamie, Phoebe and Amelia 13. Phoebe and Amelia have a rare condition called GRIN2b. They are profoundly disabled needing round the clock care. As a family, we do absolutely everything for them throughout the day and night such as changing their pads, dressing, feeding through their gastrostomies, bathing, medication, turning them in bed.
Caring for the girls is what we do as we love them dearly, but it is never ending and physically demanding. It's hard. It is restricting and isolating.
Sometimes you do feel like you're the only person in the world who is in this situation. To know that you have support is amazing.
Everything takes a long time with two disabled children. Josie and Jamie have to help care for their sisters too so we can do all the other everyday jobs that need to be done.
Caring Together plays a vital role in our lives. They are the scaffolding that holds us up.
How Caring Together support Ruth and her family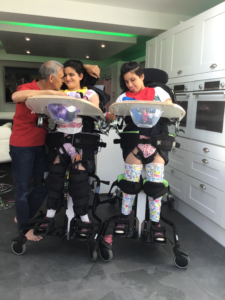 Our local council put us in touch with Caring Together to support our family in practical ways. Carers come in to take over the caring role for a time; bath the girls, change their pads, dress them, take them out for a walk or play with them.
We also have support for Josie and Jamie so that they can have time out from their caring duties.
Sometimes they go out for a bite to eat or fun activities that we can't take them to because of our situation.
Caring for our daughters is a long-term thing. They will always need us to care even when we are old and grey, we will be doing the same.
Sometimes that seems a very bleak prospect, but I know Caring Together will be there for us.
It makes the future that much brighter.
The difference support makes
What a difference it makes to have some 'time off'.
Just knowing that support is coming can be the difference between coping and not coping.
When Caring Together walks through the door we feel the weight of responsibility lift and the opportunity to get on top of things and keep in control of everyday life.
The carers who come in and help us with Phoebe and Amelia are wonderful. To hear them coming in and to know we have their help is amazing.
Josie and Jamie can relinquish being young carers for a time and be average teenagers.
It's like having an oasis in the desert.
Caring Together enables us as a family to have quality time together.
Caring Together are absolutely amazing, I can't imagine our life without them. They have supported us so much.
Why support matters so much to young carers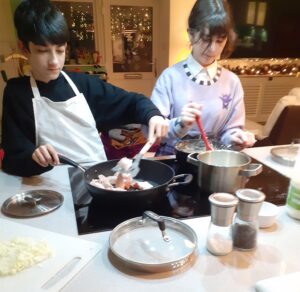 I often feel that Josie and Jamie have a raw deal and miss out on many aspects of life and quality time that other families have.
Sadly, they lost all their grandparents when they were babies, so we haven't had that back up of family support that many families have.
It's hard looking after two disabled girls.
I'd love to give Josie and Jamie wonderful family experiences, but organising life has to fit around the girls.
Having Caring Together in our lives helps us to give Josie and Jamie what they need.
The activities Caring Together provide mean Jamie and Josie get a chance to get out and do teenager things away from their caring responsibilities.
I know things aren't easy for them but having the support of Caring together shows that they are valued and appreciated.