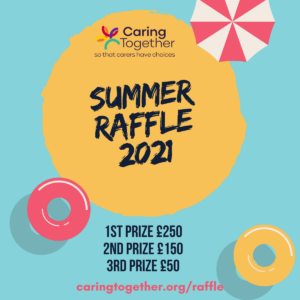 We are delighted to announce our first ever summer raffle, and we are inviting you to join in to make a huge difference to carers where you live, and a chance of winning a cash prize of up to £250!
1st prize £250 cash
2nd prize £150 cash
3rd prize £50 cash
Click here to buy your online tickets.
Click here to download a brochure explaining more about our raffle.
Caring Together chief executive Miriam Martin said, "It is very exciting that we are able to this year hold our first ever raffle.
"Every ticket sold will make a difference to a carer, and our raffle will make more people aware of the needs and challenges faced by carers.
"We look forward to people buying tickets and also spreading the word and selling tickets to their family friends, so we can together support as many carers as possible."
By supporting our raffle you are helping us support carers like Ruth:
Ruth's story
"I am mum to Josie 15 and triplets Jamie, Phoebe and Amelia 13. Phoebe and Amelia have a rare condition called GRIN2b. They are profoundly disabled needing round the clock care.
"As a family, we do absolutely everything for them throughout the day and night such as changing their pads, dressing, feeding through their gastrostomies, bathing, medication, turning them in bed.
"Caring for the girls is what we do as we love them dearly but it is never ending and physically demanding. It's hard. It is restricting and isolating.
"When Caring Together walks through the door we feel the weight of responsibility lift. Sometimes you do feel like you're the only person in the world who is in this situation. To know that you have support is amazing."
You can help us support more carers like Ruth today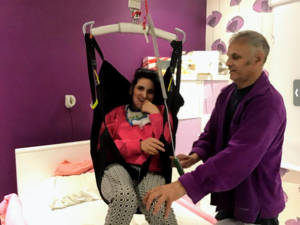 Looking after someone who can't cope without your support can be hard but you can help make a difference to carers in Cambridgeshire, Peterborough and Norfolk. Your support could help give carers of all ages:
a break from their caring role enjoying a trip or activity
support in their home for the person they look after from a qualified care worker
a grant or bursary to help their health, wellbeing, education or employment opportunities
the practical and emotional support they need through our helpline.
How you can take part
Click here to buy your online tickets.
You can click here to download the full terms and conditions for our raffle [PDF, 165kB].
All monies, counterfoils and unsold tickets must be returned by 11.59pm on 30 September. The raffle draw takes place on 8 October.
You can help carers by selling Summer raffle tickets
You can also help carers by requesting more tickets to sell. You can fill in the form at caringtogether.org/raffle to request the number of tickets you would like to sell. We will send you details on how to return the tickets and payment.
Or you can email [email protected], or telephone the fundraising team on 01480 499090.