Media invited to attend: 4.30pm-6.30pm, Thursday 15th June, Dereham Football Club
Carers Trust Norfolk is launching a vital new service for young carers who suffer from mental health issues. The launch is being held on Thursday 15 June at Dereham Football Club to mark national Carers Week, 12-18 June.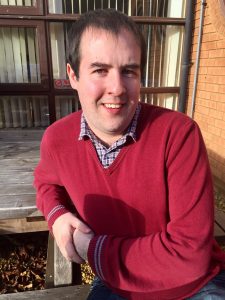 Andy McGowan, Norfolk Young Carers Lead Participation Worker (pictured right), said mental health problems, such as depression, is a huge issue for young carers whose plight may reach crisis point before they are given the support they need.
Andy said: "Young carers from across the county have told us that mental health is a huge issue for them and the people that they care for. Many young carers find their own mental health is impacted by their caring responsibilities, and, while providing much-needed support to family members with mental health issues, they are often not being identified themselves as in need of support until hitting crisis point.
"The 'Carers in Mind' campaign is designed to help shine the light on this hidden group of young people to ensure that they get the support that they need at an early stage. We want to help raise awareness and increase confidence for professionals across a range of sectors, including health, education, statutory and voluntary sector to ensure that these young carers are not being forgotten."
The campaign comes under the umbrella of Norfolk Young Carers Forum, run by Carers Trust Norfolk. The Forum is made up of young carers from across the county who have a caring responsibility in the home and get together to try and make life better for all young carers in Norfolk.
How we support young carers in Norfolk
Case study 1
Danni is 18 and cares for multiple members of her family who have a range of different health issues, ranging from mental health to learning disabilities. She tries to balance helping care for her siblings and parents with her college work and her part-time job, which she needs to do to save money for going to university.
Before Danni joined Norfolk Young Carers Forum, the impact of her caring responsibilities meant that her attendance at school really suffered as she struggled to balance everything, to keep up with her work. She hadn't told anyone in school that she was a young carer as she didn't know that they could help.
Since joining the Forum, Danni has helped raise awareness about young carers in her school, as well as across Norfolk, and was appointed her school's first ever Young Carers champion. She helped her school to put in place support for the other young carers in the school, resulting in her school being the first recipient of the NYCF 'Young Carer Friendly Tick' Award.
Danni's attendance and attainment has now dramatically improved, as her confidence, so much so that she was appointed as Head Girl because of her work with young carers in school and she is now looking forward to going to university in September.
Case study 2
Beth, 17, says:
"I started caring when I was five as my mum became depressed when my dad died when he was in the army.
"When my brother was born, he was diagnosed at two with Asperger's which was when I started going to Young Carers.
"My mum has fibromyalgia, autism, bi-polar, M.E, arthritis, hip dysplasia, inverted hips and my brother has different things including Aspberger's and Irlens syndrome.
"It is hard sometimes and I have depression and anxiety with everything that happened in my life and all this stuff doesn't help with it. I've been in counselling since I was five, but being involved with Young Carers helps because it helps me to control my anxiety. Being part of the Forum puts me into situations I would never typically put myself in which helps with my confidence – and I've made nearly all my best friends here and it's a place I can escape and feel accepted."
Young carers in Norfolk who would like further information can contact Andy on [email protected] phone 01953 878143.