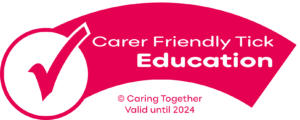 Well done to Diss High School on receiving our Carer Friendly Tick Award – Education. The award is in recognition of their work to identify and support young carers within their school.
Jess Read, young carer lead at Diss High School said: "One of the many reasons we applied for the Carer Friendly Tick Award, was to support our growing community of young carers. We want our carers to feel seen, heard and valued."
Claire Rogers, carer awareness and voice coordinator at Caring Together said, "It's excellent to see the work that Jess has done to improve the situation for young carers, and this work continues to grow within the school.
"I was impressed to see how the young carers agreement has been developed with the students' needs and wishes and that staff are given the information needed to support their young carers. Keep up the good work!'
A panel of carers assessed the submission from the school. The school particularly impressed them by:
having a young carers agreement which is regularly reviewed by the young carers themselves
ensuring the teachers are aware of who is a young carer and their support needs
having a young carers information board prominently displayed.
The Carer Friendly Tick Award was originally developed for education by young carers from Caring Together's Norfolk Young Carers Forum (NYCF) project. The success of this meant the awards have been rolled out across Norfolk, Peterborough and Cambridgeshire and now includes community, health and employer organisations. The awards recognise the important role organisations must play in ensuring carers of all ages are recognised and given the support they need.
To find out more see caringtogether.org/professionals/carer-friendly-tick-award/
Or email [email protected]