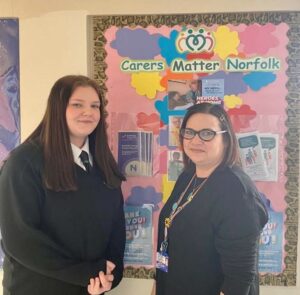 Congratulations to Aylsham High School on receiving our Carer Friendly Tick Award – Education. The award is in recognition of their work to identify and support young carers within their school.
Jennifer Coles, is young carer lead at Aylsham High School (pictured with young carer Eloise). She said: "Being able to support our young people is vitally important to us as a school. We wanted young carers to be able to achieve their goals and aspirations in a supported environment. We are really pleased to have been awarded the Carer Friendly Tick Award, which shows our ongoing support for them."
Claire Rogers, carer awareness and voice coordinator at Caring Together said 'Its great to see Aylsham High School achieving the Carer Friendly Tick Award. I particularly like the 'All About Me' contract, as this is a great way of providing the individual support young carers need."
A panel of carers assessed the submission from the school on behalf of Caring Together.  They were particularly impressed by the school having:
a young carers information board which is regularly updated
a young carer lead who has a wealth of experience across all years and is part of the pastoral team
planning to have young carer awareness raising assemblies during Young Carers Action Day.
The Carer Friendly Tick Award was originally developed for education by young carers from Caring Together's Norfolk Young Carers Forum (NYCF) project. The success of this meant the awards have been rolled out across Norfolk, Peterborough and Cambridgeshire and now includes community, health and employer organisations. The awards recognise the important role organisations must play in ensuring carers of all ages are recognised and given the support they need.
For more information about the Carer Friendly Tick Awards and how your organisation can support carers see caringtogether.org/carer-friendly-tick or email [email protected]