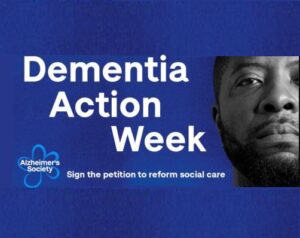 Dementia Action Week is Monday 17 to Sunday 23 May 2021. We can all together to take action to improve the lives of people affected by dementia. This, of course, will also help improve the lives of those looking after a family member of friend with dementia.
And we are taking the opportunity to make people aware of the support we have available for people looking after someone with dementia and the people they care for. Our support includes:
Information, advice and guidance to help you in your caring role.
Dedicated staff to identify and arrange support for you.
Help to plan for the unexpected.
If you want to know more about any of these please contact us at [email protected] or call us on 0345 241 0954
Our hubs have been a great support to many people caring for someone with dementia, and the people they look after. Some of the feedback we have had includes:
"I thoroughly enjoyed myself and forgot everything else"
"I wasn't sure where to turn first, but it's like my family here"
"I haven't laughed as much as I have in a long time, it was lovely to lose myself for a few hours".
Cure the care system
Alzheimer's Society has launched a campaign #CureTheCareSystem, calling on the government to cure the care system and commit to:
Publication of a clear, budgeted, plan with milestones, with reform underway this year.
Ensuring their reforms consider not just funding, but also improving the quality of care that people receive.
They have produced a hard-hitting short film to show why this is so essential. You can view this below. And please click here to find out more, read the letter that has been sent to the prime minister or to sign the petition #CureTheCareSystem
You can also use the hashtags #CureTheCareSystem and #DementiaActionWeek