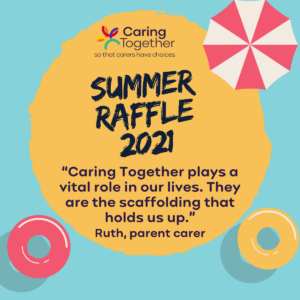 We are delighted to announce the prize winners from our first ever summer raffle and want to say a huge thank you to everyone who bought and sold tickets.
We raised more than £2300 and thank you to the people who generously made a donation as well as buying tickets.
Fundraising manager Nicky Newton said, "We really want to thank everyone who showed their support of carers by buying and selling tickets, and who made a donation.
"All the money raised means we can do more to help carers. It makes such a difference, and we are very grateful for people's support."
The inners of our cash prizes were:
First place:  Claire Hooke – £250
Second place: Tina Cornah – £150
Third place: Chris Harding – £50
As part of raising awareness of why our summer raffle is so important for helping carers, we shared Ruth's story. And you can read Ruth's story by clicking here.
You can still donate to our work to help cares at www.caringtogether.org/help-us-help-others/donate
And you can also click here to buy our Christmas cards and help raise money to support carers.