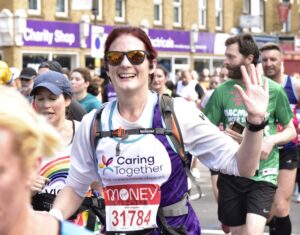 On Sunday Calista completed the Virgin Money London Marathon to raise money to help carers.
We caught up with Calista to find out more about her day, and you can still donate to support her fundraising to enable us to do more to help carers at uk.virginmoneygiving.com/CalistaStrange
Calista clearly had an amazing day and we are so proud of what she has done to support carers. She told us, "I am still on a high from completing the London Marathon on Sunday 3rd October for Caring Together!
"The atmosphere in the car down to Stanmore was one of excitement and nerves. Of the four people in the car, three were running London for the first time including myself and all of us were running for a charity. From Stanmore we took a couple of trains to Greenwich and as more and more runners got on the trains our excitement increased!
"The walk to Greenwich Park was something I will always remember, hundreds and thousands of people all coming together to run with a joint purpose – to do something amazing for themselves and for the people and/or charity they were running for.
"When it was time for us to get into our individual waves we said our goodbyes and wished each other luck – I was in wave 13 and set off at around 10.45am.
"To be honest the walk from the wave pen to the start line was a bit of a blur as I was quite overwhelmed but before I knew it myself and the hundreds of fellow wave 13 runners were all crossing the start line and whooping and shouting "good luck" to each other.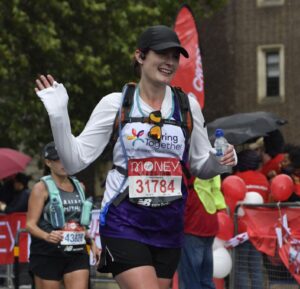 "Once I started running I soon started to relax. The support on the way round from the crowds of people was incredible and the miles soon ticked by
"The atmosphere around Cutty Sark was incredible and the roars from the spectators is something I will always remember!
"At mile 12 I saw the Shard and crossed Tower Bridge – running across this iconic bridge in the blazing sunshine was something else!
"At mile 18 the route goes through Canary Wharf and we were all cooled down by some lovely cool wind coming off the water.
"By this point I was getting a little tired, so I slowed down and took in the sights and atmosphere and knew that I only had just over 8 miles to go
"The support amongst the runners was really great, we all looked out for one another. Within around an hour of Canary Wharf the route took us to Embankment and I saw the London Eye.
"It rained when I got to about 23 miles and it was such a relief! At mile 25 I saw the Houses of Parliament and before I knew it I rounded a corner and was faced with Buckingham Palace, the end was near – less than 400 yards left until the finish line on the Mall.
"I crossed the finish line with a smile on my face and I was glad I didn't have to run any further
"I called my husband and had a little cry when I heard my children shouting "well done Mummy" down the phone. Once I got home I collapsed on the sofa and stuffed some dinner down before gingerly climbing the stairs to bed!
"I feel so happy to have had this opportunity and to raise money for Caring Together.
"I will continue to wear my Caring Together running vest with pride and raise awareness of this fantastic charity.
"I just want to say thanks again for the fantastic support I have received from Caring Together."