The countdown to Carers Week 2022 is on and we are marking the week (6 – 12 June) with workshops, social events, information sessions, that will appeal to you whether you are a young carer, adult carer, professional or involved in research. And we have an update on what we are planning, and how you can get involved.
The week with the theme 'Make caring visible, valued and supported' is an annual campaign to raise awareness of caring, highlight the challenges unpaid carers of all ages face and recognise the contribution they make to families and communities.
We want to see people that look after family member or friends, and the challenges they face recognised in all areas of life, their caring role valued and respected by everyone in our society, and they are able to access the information and support they need, where and when they need it.
Caring Together events for Carers Week
To show our support for carers, we have events and activities planned for the lead up to/and during Carers Week. With half term the week before Carers Week look out for a few more events on the way in the days before Carers Week that young carers can get involved in.
Click on the event for further information and how to book.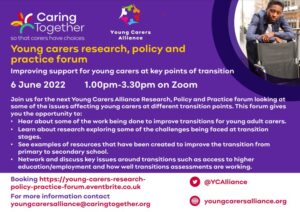 Read a Little Aloud – Carers week events at Cambridgeshire Libraries
Cambridgeshire Libraries are inviting people who look after a family member or friend to join one of their free Read a Little Aloud sessions.
Join them for a cup of tea and a relaxing hour of volunteers reading aloud stories, readings and poems that will brighten your day and make you smile.
A member of the Caring Together team will also be there talk about what we have to offer.
Click here to find out more about the Read a Little Aloud sessions at Cambridgeshire Libraries. 
 Virtual conference with health organisations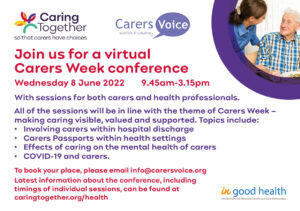 Caring Together are working with Carers Voice Norfolk and Waveney, health organisations and most importantly carers to organise a virtual conference for health organisations as part of Carers Week. Taking place on Wednesday 8 June, there will be a variety of sessions throughout the day that people can book onto. Email [email protected] for the latest information.
Contacting carers
We will be writing to carers who we have been in contact with to thank them for all they have done, look at what comes next for carers as we come out of the measures in place due to the coronavirus pandemic and share more information about opportunities for them and how they can also help us do more to support carers.
Keep updated
Over the next few weeks we will be giving more details on how Caring Together will be marking Carers Week and how you can get involved.
To make sure you have the latest information make sure you are signed up for our regular updates for carers and those with an interest in caring at caringtogether.org/keepintouch
Also make sure you follow us on social media for the latest. You can find us on Facebook, Twitter, Instagram and LinkedIn.