More than 80 people from organisations across Cambridgeshire, Peterborough and Norfolk have come together to look at how to ensure carers of all ages get the help they need and deserve year-round.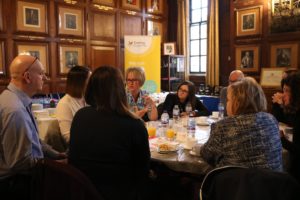 Carers Rights Day brings people across the UK together to help carers know their rights, and to find out how to get the help and support they are entitled to.
To mark the day on Thursday 21 November Caring Together hosted events in Peterborough and Norfolk focused on helping people from a range of organisations identify and support carers. This is important to ensure the aims of Carers Rights Day can be sustained throughout the year.
The Caring Together events saw adult and young carers, and Carer Friendly Tick award holders speaking about their experiences. Carer Friendly Tick awards were presented to those who have earned them in recognition of the work they are already doing to identify and support carers. The Carer Friendly Tick has now been launched across four categories of education, health, employers and communities.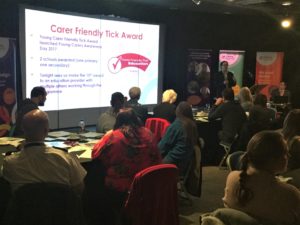 Andy McGowan, Caring Together business development and communities manager, said, "It is really encouraging to see such a wide mix of organisations, ranging from GP surgeries, to university staff, to police, to community groups, all coming together alongside carers to really think about what we can all do to ensure that more carers are identified and supported at the earliest possible opportunity.
"We heard first-hand from carers about the real difference that it makes to their lives when they know what help and support they are able to access, we well as what the rights that they have as carers.
"The launch of our Carer Friendly Tick Awards is just the start of the work in order to ensure that all carers have choices in relation to education, health, employment and being active members of their communities – the challenge is now to get as many organisations to take up the challenge of ensuring that they truly are "Carer-Friendly".
Carer Friendly Tick awards were presented to North West Anglia NHS Foundation Trust (health), Spinney Surgery St Ives (health), Hampton College (education), HM Passport Office Peterborough (employer), Ormiston Venture Academy (education), Magdalen Gates Primary School (education), Ormiston Victory Academy (education), St Clements High School (education) and Holt Youth Project (community).
About the Carer Friendly Tick awards
The Carer Friendly Tick Awards were initially developed by Norfolk Young Carers Forum (NYCF), which is a project funded by the National Lottery Community Fund and facilitated by Caring Together to support young carers and young adult carers to have their voices heard.
The initial success of the Carer Friendly Tick (Education) Award has meant that the award is now being rolled out across Peterborough and Cambridgeshire, and extended to now include education, community, health and employer awards. These recognise the valuable work done to identify and support carers carried out by each type of organisations.
For more information please e-mail [email protected].