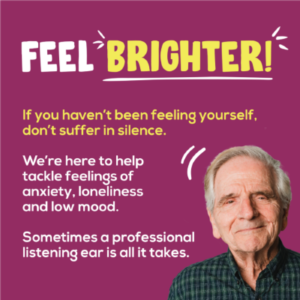 The 'Feel Brighter' campaign is reaching out to older people aged 65 and older, who may be struggling with their mental health but don't know where to turn for advice, support or to find out what services are available locally.
The campaign is run by Cambridgeshire & Peterborough Integrated Care System. It is encouraging older people who have symptoms such as anxiety, loneliness, or low mood to reach out and access free NHS Talking Therapies and other support to help them feel brighter again.
NHS Talking Therapies are effective treatments that involve speaking with an experienced mental health professional to understand feelings and learn ways to manage them. Sessions are totally confidential and can be one-to-one, in a group, online, or over the phone.
Recent statistics show that 9.3% of the region's population aged over 65 struggle with a common mental health condition such as anxiety or depression. And nationally, 33% of older people say they have felt more anxious since the COVID-19 pandemic began.
You can click here to visit the Feel brighter webpage on the Cambridgeshire & Peterborough Integrated Care System website