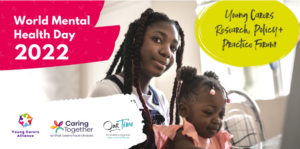 Come and join the Young Carers Alliance, Caring Together and Our Time for a young carers research, practice and policy forum looking at the specific challenges faced by children who support parents with a mental health difficulty.
Presentations will look at the individual impact of supporting a parent with a mental health difficulty as well as the potential economic cost of not supporting this group of children and young people.
Most importantly, it will provide an opportunity to learn about interventions to support these young people and discuss what can be done in your local area and nationally to improve recognition, identification and support.
For further information email, [email protected]
Click here to book your place for 'World Mental Health Day 2022 – Young carers and parental mental illness'.
Download the World Mental Health Day 2022 – 'Young carers and parental mental illness' flyer [PDF, 1MB]