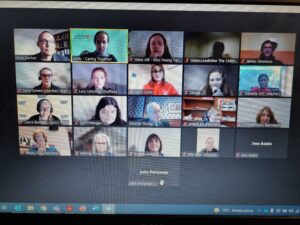 More than five years on from the introduction of formal rights for young carers, and young adult carers, thousands of children and young people are still being negatively affected by the impact of their caring responsibilities; whether this be their education, their health and wellbeing, or the opportunities available to them.
The Young Carers Alliance is a growing network of organisations and individuals committed to changing this and improving the support available for young carers, young adult carers and their families.
We bring together representatives from research, policy and practice, all of whom are committed to bringing about improved outcomes for all young carers.
The Young Carers Alliance provides opportunities for collaboration, sharing best practice and a strong, collective voice for young carers.
You can sign up to be part of the Young Carers Alliance at the bottom of this page.
For more information, or if you have any questions, please email [email protected]
Young Carers Alliance – Terms of reference
Young Carers Alliance Terms of Reference – March 2022 [PDF, 114kB]
Sign up now
Young Carers Alliance privacy notice – March 2022 [PDF, 59kB]
Upcoming Young Carers Alliance events
Monday 6 June 2022, 1-3pm – Research, Policy and Practice Forum -Transitions – Join us for the next Young Carers Alliance Research, Policy and Practice forum looking at some of the issues affecting young carers at different transition points.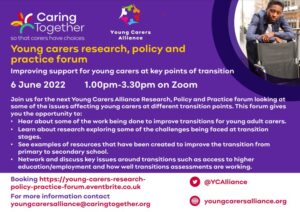 Friday 25 November 2022, 10am-12pm – Research, Policy and Practice Forum – Theme TBC
Previous Young Carers Alliance events
Tuesday 15 March 2022 – Launch event
Monday 27 September 2021 – Young Carers Research and Practice Forum
Young Carers Alliance publications, policy briefings, consultations and responses
Resources
Click here to find awareness raising, policy, practice, research and survey resources.
Young Carers Alliance members
Organisation
Andover Young Carers
Barnardo's
Basingstoke and District Young Carers
Be Free Young Carers
Bridgend Carers Centre
CarersCount2
Carers First
Carers in Bedfordshire
Carers in Hertfordshire
Carers Network
Carers Northumberland
Carers Support Centre Bristol and South Gloucestershire
Caring Together
Carers Trust
Carers Voice Norfolk and Waveney
Centre 33
Cocoon Kids – Creative Counselling and Play Therapy CIC
Contact
Crossroads Together
Cumbria County Council
Derbyshire Carers Association
East Hants Young Carers
Enfield Carers Centre
Expert Self Care Ltd
Family Action
Family Action – Leeds Young Carers Support Service
Fareham and Gosport Young Carers
Gloucestershire Young Carers
Hampshire Young Carers Alliance
Hart and Rushmoor Young Carers
Havant Young Carers
HumanKind
Imago
Kids
Kingston Carers' Network
Leicestershire Cares
Manchester Young Carers Partnership
Marshland High School
MTM Youth Services CIC
MYTIME
New Forest Young Carers
Newcastle Carers
Norfolk Family Carers
Northamptonshire Young Carers Service
Nottinghamshire Carers Association
One Community – Eastleigh Young Carers Project
Open University Carers Research Group
Our Time
Partnership in Children
Pennine Care NHS Foundation Trust
Restitute
Richmond Carers Centre
Romsey Young Carers
Sandwell Young Carers
Sefton Carers Centre (Sefton Young Carers)
Sibs – for brothers and sisters
Signpost Young Carers
Sheffield Young Carers
South Ayrshire Health and Social Care Partnership
Suffolk Family Carers
Surrey Young Carers
The Benjamin Foundation
The Carers Centre for Brighton and Hove
The Children's Society
University of East Anglia – Widening Participation Team
University of Leicester
University of Portsmouth
University of Warwick
West Norfolk Carers
West Sussex Young Carers Family Service
Who Cares campaign
Wigan and Leigh Carers Centre
Wiltshire Young Carers Service – Community First
Winchester and District Young Carers
Wolverhampton and Birmingham Young Carers
www.youngcarers.info
YMCA Sutton Coldfield
Young Carers Matter Norfolk
Young Carers National Voice Network
Academics
Dr Amy Warhurst – University of Winchester
Camille Bou – London School of Economics and Political Sciences
Daniel Phelps – University of Winchester
Dr Emma Maynard – University of Portsmouth
Dr Eugenia Caracciolo Di Torella – Leicester University
Dr Geraldine Boyle – Open University
Dr Kate Blake-Holmes – University of East Anglia
Nadine Harding – University of Gloucestershire
Sarah Bayless – University of Winchester
Professor Saul Becker – Rudd Centre, University of Cambridge
Dr Trudi Cameron – University of Nottingham
Professor Matt Bennett, Deputy Director at the Centre for Care at the University of Sheffield