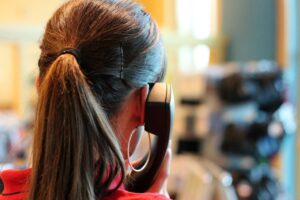 In a year the Caring Together carer helpline team will speak to carers on more than 14,000 calls. Each of those calls sees our team helping someone looking after a family member or friend.
Anna, one of our advisers, sat down to tell us more about how she and the team do this.
Connecting with people
"No two days are the same. We speak to people who are different ages, all who are caring for their loved ones or friends with different types of illnesses or care needs.
"Sometimes they have come for advice on what is available for them if they need help.
"Sometimes they come to us as they are at, or coming to, crisis point. Then we use our services that are available for these situations to put the essential support in place as soon as possible."
How people get in touch, and how they have been put in contact with Caring Together varies, but the team work to treat each person as an individual.
"I talk to a lot of people," Anna says.
"Depending on my tasks for the day, I might be responding to people who are coming to us by emailing [email protected], our team will manage the calls coming through to us, or deal with the referrals of carers who have been passed on to us for support and advice.
"We also liaise with external agencies and local authorities to make sure the carers are reaching all the support that is available to them.
"Every time I take a phone call it is different, sometimes people calling don't really realise they are a carer. Sometimes they have just reached 18 so could be caring for a parent, or they could be much older."
And the helpline can be absolutely essential for many carers, "People may come to us as they have no one else to talk to."
The difference one conversation can make
Anna and her colleagues have seen how people can feel a complete shift in their situation when they start to have a plan of support put in place.
"It is a good feeling that by the end of the call – when they may have called us in crisis – that they are feeling relief there is something we can do to help, or they know to call if something happens again.
"It can be a call where someone is calling in tears, and then by the end in an hour they are feeling ok."
How long each call lasts depends on the needs of the carer. And carers can call us at different stages of the caring experiences for the advice, information and support that is relevant at that time.
"Some people are coming briefly to just check what is available. Others come back to us over a period throughout the different stages of the caring role. People can come back to us whenever they want."
The type of support we give
Each person looking after a family member or friend has a different situation and needs, but some types of support are more common.
"If carers have a medical appointment but are caring for someone who can't be left on their own, we can provide a sitting service to help them to manage their medical appointments.
"If they have an emergency which is stopping them being able to care for someone for a short period, we can use a What If? Plan. And that also gives peace of mind and they do not have to be stressed about the person they are normally caring for.
"People may be struggling financially, and we have grants available we can use to enable them to have a break or buy household items to help them to manage daily activities. For example, it may be a washing machine – if you are caring for someone who is incontinent it is very important to have this. It is about offering to help in ways that are relevant their personal situations."
And Anna says seeing carers who have been supported then want to help other carers shows how much the support is valued.
"Some carers who we have supported, after their caring role has finished, they come and volunteer for us.
"It shows that they think we have done a good job and that what we do is valuable, and they want to continue that in helping other people as well.
"It may also be about finding a new sense and purpose as if they have been caring for many years, they may be unsure what to do with themselves after their caring role."
It helps to talk
An important part of what Anna does is talk through people's situation with them, so they understand the options they have. Part of this is giving them information, but it is also important people can have a conversation where they are able to consider their own situation, their needs and what is best for them.
"A lot of people don't recognise themselves as being a carer for quite some time – on average it can be two years. Some don't recognise they are a carer, or don't want to be seen as carer.
"Talking to people, they then can be more aware of the decisions they can make and the choices they have.
"Sometimes they come to us as they feel they need the permission to be not ok.
"They may feel they can't tell their relatives or friends as they may feel ashamed they are finding it hard. Talking to them, and them realising that is ok, they start to get some support from their help network.
"It can really be helpful for people to know it is a good thing to talk about their situation, how they feel and what they themselves need with the people around them.
"People can be too tired and too busy to realise themselves what they need, or they concentrate only on the needs of the person they care for and forget about themselves. Talking to them can help them recognise their own needs and feelings, and what can be done to help with these.
"You can ask people what they are struggling with. Different cultures can mean people feel different expectations that they think they have to meet."
Meeting carers' needs
Anna explained how the team work together to make sure they help carers get all the support relevant to them. And the team have a lot of empathy for each carer.
"All the team who work on the carer helpline have to have a quite large knowledge of what might be available – from carer groups to more crisis situation support.
"Or if we don't know about something we will go away and find out for them.
"Those of us on the team have a variety of skills and experiences that we use to make sure every person has an individual support plan or action plan. We treat every carer we talk to as an individual person.
"As a team we get advice from each other, so we can use our previous experiences and different skills and all the things we have learned about through our roles.
"As most of us are carers or have been carers it means we can empathise. And from all the conversations we have we also realise any of us could become a carer at any point in our lives."
---
If you look after a family member or friend you can contact our helpline team on 0345 241 0954, at [email protected] or via caringtogether.org/contact-us
---
Do you want to join our team and make a difference to people's lives? See our latest available roles at caringtogether.org/about-us/join-our-team/vacancies