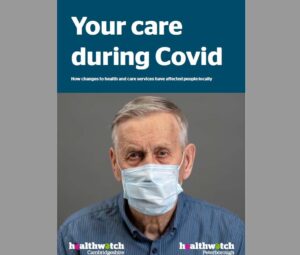 The final report from Healthwatch Cambridgeshire's three-month COVID survey has been published today (22 October 2020).
"Your care during COVID" has highlighted the health and care struggles of some of the most disadvantaged in our communities across Cambridgeshire and Peterborough. The survey aimed to find out how changes to health and care services were affecting local people.
A total of 1,131 people from across the area took part between 28 May and 31 August 2020.
Healthwatch Cambridgeshire listened to the experiences of a wide range of people – in particular, those who are most likely to be affected by COVID-19 and changes to services since the pandemic started.
The final report found:
Older people, those with disabilities or long-term health conditions, carers and those not online were hit hardest by the pandemic and subsequent service changes.
Three in ten people avoided getting help for a health problem.
Out of those that did get help, three out of four rated it highly.
One in three people told us that the pandemic had a high or significant impact on their mental health and wellbeing.
The shutdown of dental services worsened existing problems around access to high street NHS dental care.
Although some people have taken to online hospital or GP appointments, they don't work for everyone. Many people don't have the internet and those with sensory impairments find remote consultations hard to access.
How Caring Together can help carers
Looking at the findings highlights how many of the services and support Caring Together offer can be so important to carers looking after a family member or friend:
If carers need to access their own health appointment – we can help
We have been providing carers with PPE
Our Listening Ear Service and online groups provide carers with someone to talk to
We have a range of ways of helping carers with a break
There has been one-to-one and face-to-face support available where this is needed and appropriate.
You can contact us on 0345 241 0954 or email [email protected]
Read the full report
You can click here to download Your care during COVID – PDF 768kB
Click here to read more from the Healthwatch Cambridgeshire website
Other comments on the report
Sandie Smith, CEO of Healthwatch Cambridgeshire and Healthwatch Peterborough, said, "It has been humbling to hear how people have fared and some of the experiences they shared have been tough reads."
The findings of the survey have been shared over the last few months with the people buying and providing local health, care and support services and helped shape local NHS winter and recovery plans.
And now Healthwatch Cambridgeshire is urging the NHS and local authorities to take on the learning from the survey to improve patient communications, reduce health inequalities and address digital inclusion.
Adrian Chapman, Service Director: Communities and Partnerships at Peterborough City Council and Cambridgeshire County Council said, "I would like to sincerely thank Healthwatch for having the foresight to carry out this vital survey work.
"It is so important that service providers, such as Cambridgeshire County Council and Peterborough City Council, design and deliver services that meet the real needs of our residents, and this survey's results gives us some powerful insights to respond better.
"This has never been more relevant than now, as we continue to deal with the pandemic and the impacts it is having on communities.
"One notable point from the survey is the importance of people having good digital connectivity, and the skills to use it, in order to access information and seek help and support, and this is something that we are already working on with colleagues from across the public sector."
Carol Anderson, Chief Nurse, Cambridgeshire and Peterborough Clinical Commissioning Group, "The latest Healthwatch report has helped us, as commissioners of local healthcare services, to better understand people's experiences of healthcare during the COVID-19 pandemic.
"These insights help us to plan for the future, during the recovery from the first peak of COVID-19 and beyond."
Your COVID experiences are still wanted
Healthwatch Cambridgeshire and Healthwatch Peterborough are continuing to collect people's feedback about using health and social care services. Please tell them your experiences of services as the pandemic progresses at www.healthwatchcambridgeshire.co.uk/share-your-views