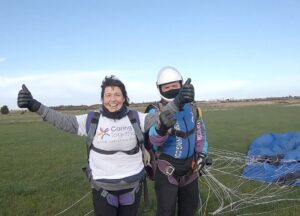 Our latest group of fundraisers have taken part inf a skydive to raise money to support carers across Cambridgeshire, Peterborough and Norfolk.
They made their jumps at North London Skydiving Centre in Chatteris this weekend and loved the experience.
Nicky Newton, fundraising manager, said, "The fundraisers have all absolutely loved the experience of the skydive. It is understandable that some of them have some nerves about jumping out of an aeroplane but the team at the skydiving centre have been really supportive and friendly and played a wonderful role in making it a thrilling experience.
"Everyone this weekend and in our last skydive have had an incredible buzz from the skydive and also knowing they have raised money to help carers.
"We know people who look after a family member or friend benefit so much from the support events like this help to fund."
One of the skydivers, Sharon McLeod, said, "It just the best thing that I've ever done. I feel it was just fantastic, it was absolutely fantastic.
She laughed, "They looked after me and it as the best 15 minutes of my life so far… other than the day I got married!"
Three in five people will be carers, looing after a family member or friend, at some point in their lives, which is why raising money to support carers in your community goes a long way. You can donate to help carers by going to www.caringforcarers.uk
If you or your business want to join #TeamTogether to raise money to support carers – whether that is by taking part in a daring or energetic challenge, or while keeping your feet firmly on the ground, please contact [email protected]