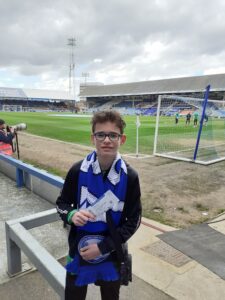 Wednesday 16 March is Young Carers Action Day and we want to say a huge thank you to the Peterborough United Foundation for inviting two football mad young carers to the home match against Stoke City on Saturday.
12-year-old Freddie was one of the two young carers who went along to the match with Andy McGowan, our head of engagement. The final score against Stoke City was a draw (2-2), and the carers thoroughly enjoyed the experience.
Freddie helps care for his Mum who has mobility problems due to several health issues.  He is a keen goalkeeper and plays in goal for his local football team, but this was this first opportunity to go and watch a match – it also gave him the opportunity to have a break from this caring role.
Freddie said: "Thank you for the opportunity – I had a great time and really enjoyed it. I really liked the atmosphere – it was louder than I thought it would be. My favourite player was definitely Jones."
Freddie's mum said that her son was "buzzing" when he returned home on Saturday. She said, "I just want to say thank you so much to Peterborough United Foundation for the match ticket and Caring Together for taking Freddie to his first match, he is buzzing! I have had the full run-down and he is now telling his sisters how he met the mascot too.
He is one happy boy, and we really appreciate everything you have done for him and for giving him a good experience at his first game – we can't thank you enough!"
The Peterborough United Foundation said: "Thanks to our partnership with Caring Together, we were able to offer tickets to some of the young carers in the local area for our recent game against Stoke City. It was great to be able to welcome them to the Weston Homes Stadium for the game and we hope to see them back soon.
The support Caring Together gives young carers is invaluable and we're proud to have such a fantastic partnership."