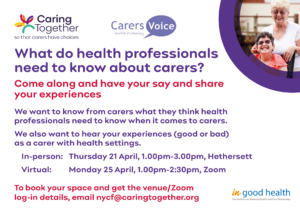 At Caring Together, we are putting together new resources and carer awareness-raising sessions for health professionals such as hospital staff, mental health workers, and GPs, so we want to carers to help us.
We want to know from carers what they think health professionals need to know when it comes to carers. We also want to hear your experiences (good or bad) as a carer with health settings (such as hospitals, GP surgeries and pharmacies) so that we can include these examples in the training sessions.
We are running two sessions – one in-person and one virtual. Carers are welcome to join whichever works best for them. At the in-person session, we will be providing carers with the opportunity to be filmed talking about their experiences to help provide video or audio clips to use in training sessions.
In-person: Thursday 21 April, 1.00pm-3.00pm, Hethersett
Virtual: Monday 25 April, 1.00pm-2:30pm, via Zoom
To book your space and get the venue/Zoom log-in details, email [email protected]
You can download a leaflet about this event here [PDF, 363kB]