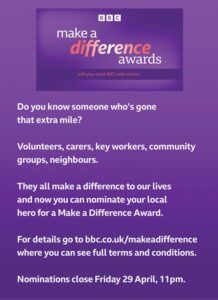 Do you know a carer that goes above and beyond to improve the life of an individual or group of people by caring for them on a regular basis?
This is your chance to say a huge thank you to them by nominating them for a BBC Radio Cambridgeshire 'Make A Difference' Award.
Your nomination will show you recognise and appreciate what they do to make life better for others.
Melanie Gray, our deputy chief executive, has spoken to BBC Radio Cambridgeshire presenter Louise Hulland about the important role people play by looking after family members and friend.
Louise added that carers may feel that they are 'just looking after a family member and that is what needs to be done', but we must recognise the physical and emotional demands of caring for someone.
Nominate a carer
Click here to nominate a carer or to see full details.
You can nominate anyone of any age, however you do need to be aged 18 or over to submit an entry.
Nominations close on Friday 29 April 2022 at 11pm.