The Outreach Team at the University of East Anglia have had their activities to identify and support young carers and young adult carers recognised by the awarding of the 'Carer Friendly Tick – Education Award'.
The team have worked with Caring Together's Norfolk Young Carers Forum (NYCF), which is funded by the National Lottery Community Fund, to evidence and develop what they have in place to support young adult carers. What the Outreach Team have in place includes having a 'champion' to act as the 'go to' person regarding young carer/ young adult carer issues and to make sure there is information available. The Carer Friendly Tick for Education was awarded by young carers involved with Norfolk Young Carers Forum.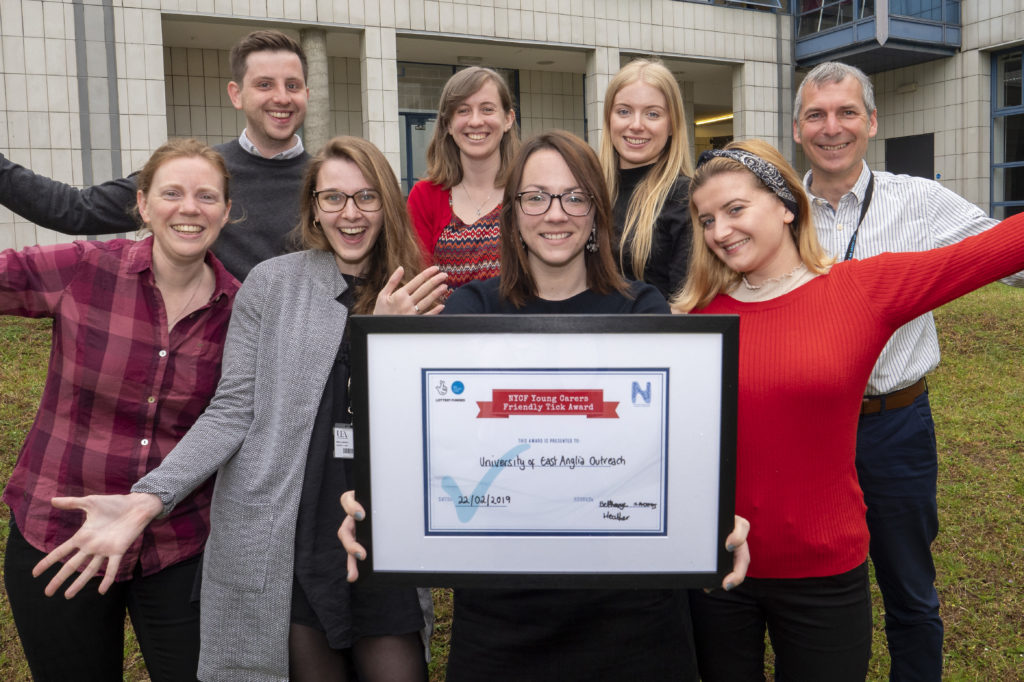 Liz Ferguson, Outreach Officer at the UEA said,
"We are delighted to receive the Carer Friendly Tick – Education award in recognition of our Outreach activities for young carers and young adult carers. Our team is committed to encouraging young people and adult learners who are considering going to university in the future. A key challenge for us is making sure that the opportunities we offer, which include individual tours, group visits to our campus, and residential summer schools, are visible to the local community, and this is why we are so excited to receive the Carer Friendly Tick award.
"UEA's welcoming atmosphere and diverse community offers a great opportunity for visitors to find out about Higher Education, and we encourage young carers and young adult carers to take part in the Outreach activities on offer."
Andy McGowan, Business Development and Communities Manager at Caring Together, said,
"With as many as one in five secondary-aged children and young people caring for someone in England, there are around 20,000 young carers and young adult carers in Norfolk alone. With three in five of us likely to be a carer at some stage in our lives we are seeing more and more organisations in our communities recognising the importance of identifying and supporting carers of all ages.
"The Carer Friendly Tick – Education is a set of quality standards that has been designed by young carers in Norfolk to encourage schools, colleges and universities to identify and support students that are carers. As a result of its success, it is now being rolled out to Employers, Health Organisations and Community groups.
"It has been very positive to see the existing work of the Outreach Team at the UEA and to work with them on developing that. We work with them every year to organise a specific taster day for young carers – the most recent of which was on Thursday 29 August.
"We congratulate them on their work and on the awarding of the Carer Friendly Tick in recognition of this."
Around 25 members of the extended UEA Outreach team attended a training session to increase awareness of the challenges faced by young carer and young adult carer students.
Andy added,
"We hope that other schools, colleges, universities and also health settings, businesses and community groups will follow the lead that the Outreach Team at the UEA and others have made to identify and support carers. As the number and awareness of carers grows this will be an ever more important part of making suitable provision for carers across Norfolk."