Carers across the region were celebrating on Thursday night after Carers Trust Cambridgeshire, Peterborough, Norfolk's annual Pride in Our Carers Awards.  Nominees were invited to a special awards ceremony at Huntingdon Racecourse, hosted by BBC Radio Cambridgeshire's Chris Mann.
Now in their fourth year, the awards are designed to show appreciation for the contribution that carers make to our local community, raising awareness of the vital role they play, along with acknowledging the valuable people and organisations who support them.
Judging the awards was once again no easy feat, but previous winner and judge, Teresa Jude, explains it is so important:
"As Carers' Advisor at North West Anglia NHS Foundation Trust I meet carers every day and listen to their stories.  I cannot help but be moved by many of those stories and their dedication.  Carers are amazing people doing an amazing job, often to the detriment of their own health, and we should all recognise, respect, value and support carers, which is why these awards are so important.  As a judge it was so difficult to choose a winner in each category because all were so deserving of an award."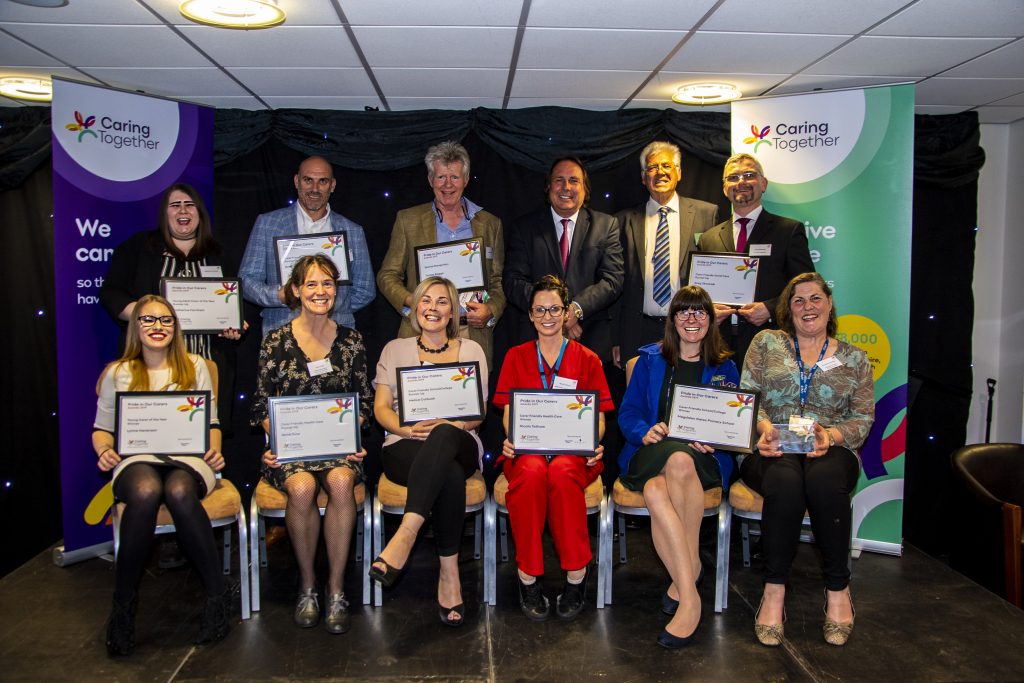 Winners on the night included:
Special Recognition – James Bagge
The former High Sheriff of Norfolk, James Bagge, was recognised on the evening, receiving a highly coveted Special Recognition Award following his 1,500 mile sponsored walk from Stradsett, near Downham Market, to Santiago de Compostela, on the west coast of Spain, taking over 79 days, raising in excess of £60,000 in support of local carers.
Outstanding Contribution to Caring – Christine Glover
Peterborough woman Christine received the coveted 'Outstanding Contribution to Carers' award for her tireless 17-year tenure as a volunteer with the Motor Neurone Disease Association.  Christine's whole family approach to those with M.N.D. won her praise from the judges, commenting that she was "a truly supportive and energetic individual",
 Carer of the Year – Bob*
 The Carer of the Year award went to Bob who has been caring for his wife for a number of years.  Beyond supporting her practical day-to-day needs, Bob has become an expert by experience.  One of his areas of expertise is protecting his wife's rights and he has freely shared what he has learned with other carers to assist them.  The judges were humbled that Bob finds time to help others, despite caring for a loved one full-time.
* Does not wish to be identified
Young Adult Carer of the Year – Charlea Medcalf
Charlea, 18, of Long Stratton in Norfolk, was crowned Young Adult Carer of the Year and described by the judges as "a brave and inspirational carer".  Alongside caring for her mother, Charlea has become an integral part of the Norfolk Young Carers Forum, winning high praise from her peers for her friendly and supportive attitude.  On winning the award, Charlea commented:
"I'm very happy and I listened to other stories tonight and thought I wouldn't win.  Today I sat my last A-level exam and winning this award is the icing on the cake!"
 Young Carer of the Year – Lynne Haverson
16-year-old Lynne from King's Lynn took home the Young Carer of the Year Award.  Whilst caring for her sister, who has several additional needs, Lynne finds it challenging at home to manage caring and going to school, revising for her GCSE's and applying to go to college.  The judges were impressed with the great impact that Lynne has on others, particularly through her work volunteering with the Norfolk Young Carers Forum.  Whilst Lynne was happy that she won, she was "confused as I don't feel I do anything special."
 Carer Friendly Voluntary Award – Richard Cross
 The judges rewarded Cambridgeshire man Richard's "dedication" as a volunteer with the Carer Friendly Voluntary Award.  Playing a very active role volunteering both at Carers Trust Cambridgeshire, Peterborough, Norfolk and other carer organisations nationally, Richard is forthcoming about his own caring experience for his wife, making people feel less isolated and alone.
Carer Friendly Social Care – Philia Lodge Care Home
 Peterborough care home, Philia Lodge, didn't go home empty handed, receiving the 'Carer Friendly Social Care' award for their innovative services and motivated team.  Heidi Seldon, Registered Manager, was delighted to have won:
"It's amazing for my staff to have the recognition they deserve for their commitment and dedication they give to our service users and their families."
 Carer Friendly Health Care – Nicola Tatham
Nicola Tatham works in the Accident and Emergency department at Hinchingbrooke Hospital and received the gong for 'Carer Friendly Health Care'.  Nationally very few young carers are identified by health care professionals and this is even fewer within busy A&E departments.  Nicola not only identified a young carer at the earliest possible stage, but went on to source and share local support information for the young carer as part of the discharge planning process.  Judges commented that "this is how the system should work… full marks to Nicola." Nicola herself was "amazed" to have been recognised for her work.
 Carer Friendly School or College – Magdalen Gates Primary School
 Individuals weren't the only winners on the evening with Magdalen Gates Primary School, Norwich, collecting the award for Carer Friendly School or College.  Truly embracing the concept of a carer friendly school, the judges recognised the "fantastic evidence of their work" that was "leading the way" for young carers, describing the school as "highly exceptional".  Elizabeth Earnshaw, Parent Support Advisor, describes winning the award as "really exciting and natural" and feels particularly proud of the relationship they have with their students that are carers and the difference that their work in making to their lives.
 Carer Friendly Employer – Her Majesty's Passport Office
 A two-year streak was set for Her Majesty's Passport Office who won the Carer Friendly Employer award once again.  Having created a robust support network for their employees who are carers and going on to share best practice at a national level, there was a clear evolution in their carer friendly approach.  Stephen Duffy, a partner at award sponsor Buckles Solicitors, explains why they were so keen to support this category:
"In my career, I have met with a great number of clients who are either cared for or are carers themselves, and I am always in awe of the unrelenting, selfless work of those carers.  I support anything that can be done in the workplace to make caring easier."
Carers Trust Cambridgeshire, Peterborough, Norfolk Chief Executive, Miriam Martin, was quick to congratulate all nominees and winners alike:
"We are so excited that the awards have become a firm fixture on the Carers Week calendar each year.  As always, it was not an easy task for the judges and all nominees are truly winners in our eyes.
"For us, it's not just about getting together and celebrating on one day, but about shining a spotlight on carers of all ages and what they do day in, day out to support the people who couldn't cope without them.
"There are around 178,000 family carers across Cambridgeshire, Peterborough and Norfolk.  This number is projected to rise to 264,000 by the year 2030.  The awards are our opportunity to, not only acknowledge and say thank you to these people and the people that support them, but to inspire individuals, organisations and businesses to do what they can to make caring easier for the three in five of us who will take on a caring role at some point in our lives."
Carers Trust Cambridgeshire, Peterborough, Norfolk took the opportunity to reveal a new name and look for the charity.  From Monday 15th July, the charity will be known as Caring Together.  Of the announcement, Miriam commented:
"I can't think of a better occasion to unveil our plans to support more carers, like Bob, Lynne and Charlea, locally.
"We chose Caring Together as our new name because of our history of collaborating, but also because we bring carers together – together with information and advice, together with services that help and together with each other.
"We know that being a carer often means people feel isolated and lonely.  We want everyone in our communities to know that they are not alone.  That we are all, caring together."