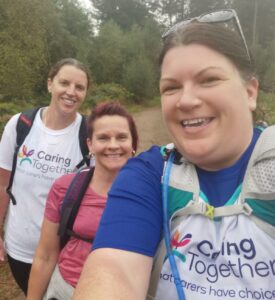 A group of five members of Caring Together staff are going to be taking on the Yorkshire Three Peaks Challenge to raise money for the charity and help carers across Cambridgeshire, Peterborough and Norfolk.
Maxine Thompson, John Platten, Melanie Gray, Lizzie Hindler, Ruth Young will be covering 24 miles and more than 2000 metres of ascending as they set out to walk up Pen-y-ghent, Whernside and Ingleborough on 9 October.
Providing support to the team are two more member of our staff – Tina Cornah and Teresa Weiler.
You can sponsor the group and help carers by donating at https://uk.virginmoneygiving.com/fundraiser-display/showROFundraiserPage?userUrl=MaxineThompson8&pageUrl=1
Ruth said, "Seeing first-hand the impact of the work we do has motivated me to go the extra mile (or 24!). 24 miles is a good number to be walking as this is the number of hours in the day that carers are there to support their loved ones.
"I like a personal challenge and something to aim for so loved the idea of incorporating that with raising money for Caring Together."
Melanie said why she is motivated to help carers in this way and that she was inspired by colleagues doing the challenge a few years ago, when she helped by staffing the support vehicle. When she heard another Three Peaks Challenge was being planned, she jumped at the opportunity. She said, "I didn't want to turn down the opportunity a second time to raise funds for such a great cause.
"I know how difficult caring can be from my own experience, and this challenge is nothing compared to the relentless challenges carers face every day."
Lizzie explained why she is taking part, "A year ago myself and another colleague wanted to challenge ourselves, and raise vital funds for Caring Together.
"We decided to take on the challenge of the Yorkshire Three Peaks, and so offered the challenge out to everyone in the charity.
"This will be my hardest challenge that I have put myself through and whether we complete this in 12 or 24 hours it will be an amazing achievement."
Maxine explained, "I'd always wanted to challenge myself and often wished I had the guts to commit to complete a marathon. One problem, I'm not a runner, I hate running! But as a dog owner I do walk a lot and when I saw Lizzie's email about completing the Yorkshire three peaks challenge, I knew this was something I could do and who better to do it with than those with a common goal to support carers and their families."