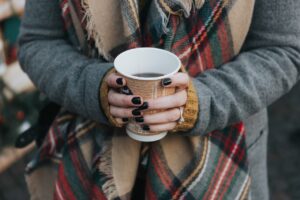 If you are looking after someone, winter challenges can include the cost-of-living crisis, weather, seasonal illness, and other factors.
Support and advice are available to help you be prepared. If you want to talk to us about anything we mention here, please do get in touch.
This information is taken from an article in our latest Caring magazine. So remember you can:
Staying connected and reducing isolation
We have carers hubs, groups and activities for carers of all ages. You can see these at caringtogether.org/events or contact us to find out what we have coming up that would suit you. Also see our directory at caringtogether.org/carers-directory or our Caring magazine for details of other organisations and services that can help you. For more about what is available in Norfolk at carersmatternorfolk.org.uk/carers-directory
Have an emergency plan
Knowing you have a plan for how you would manage in an emergency is a practical help and takes away worry.
In Cambridgeshire and Peterborough we can support you with a What if? Plan. This covers situations when you are unable to look after your loved one, such as sudden illness, unplanned admission to hospital, or your car has broken down.
You can be prepared for other emergencies including equipment breakdowns, power cuts, loss of water supply and more. See caringtogether.org/emergencyplanning for information on organisations that can help in these situations and other things for you to plan for.
If you are in Norfolk, you can see details on emergency planning on the Carers Matter Norfolk website at carersmatternorfolk.org.uk/emergency-planning
Herbert Protocol
With darker nights and worsening weather, if someone with dementia or other conditions were to go missing, they are more vulnerable.
The Herbert Protocol is used by Cambridgeshire and Norfolk Police and other agencies. It encourages carers to compile useful information which can be used if a vulnerable person goes missing. This means a search can begin more quickly.
See more at caringtogether.org/carers-directory/herbertprotocol-cambridgeshire or carersmatternorfolk.org.uk/carersdirectory/herbert-protocol-norfolk
Planning with your family
Thinking and planning ahead around upcoming events, including Christmas, can make life easier for you and the person you look after.
Talk to your family and friends, and raise any worries or concerns you have. Manage their expectations and be realistic about what is doable or desirable for you and the person you care for. Say what you and the person you care for would find helpful and useful, and what may be challenging.
You can see what opportunities there are for you to have a break or share caring responsibilities. People may not be aware of what is involved in your caring role and its demands until you explain the situation to them.
There may be other ways for you to be able to take a break. Contact us to find out more.
Help with medical appointments
If you have a medical appointment of your own and are struggling to attend it, help is available. Contact us for support, that may include making sure the person you look after is cared for while you are at your appointment.
If you are invited for a flu vaccination this can help protect you and the person you care for. Make sure your GP knows you are an unpaid carer.
Staying warm
NHS advice suggests that when the weather drops below 8°C, some people are at increased risk of physical and mental health conditions. With colder weather, having the right advice and support for staying warm is important.
If you would like to know more about help potentially available to you, please do contact us.