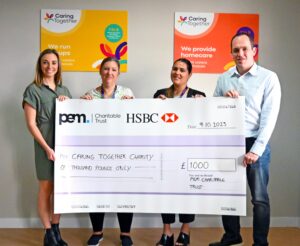 Cambridge firm, PEM have donated £1000 to help ensure young carers across Cambridgeshire and Peterborough continue to get the support they need. 
The PEM Charitable Trust was set up in 2018 and the donation was part of their work in supporting local charities. 
Caring Together approached the trust and let them know about the work done with carers of all ages across the area, but specifically our need of support for our work with young carers due to previous funding coming to an end and the service in Cambridgeshire and Peterborough being under threat. 
James Burrett, partner at PEM, said reasons they had chosen to support the work of Caring Together Charity in helping young people looking after a family member or friend included the range of people benefiting from the work of Caring Together to support carers, and the importance of the groups, activities and trips being provided to young carers. 
Amy Hayden, CSR and Community Lead at PEM, said hearing about the experiences of young carers was something the team at PEM had been stuck by, "A lot of staff are parents, so to think about their children being in that position of having to care for someone else really resonated with them." 
Zoe Bunter, Caring Together Head of Fundraising and Communications said, "Carers of all ages need support, and we are really delighted that PEM have recognised the importance of young carers continuing to get the help that they need. 
"We appreciated the time taken by members of the team at PEM to come in and speak to us to find out more about the work that we do. They clearly understood that caring is something that can affect any of us, at any time, and the pressures that it can bring. Their donation will make a real difference to the lives of young carers." 
You can click here to find out more about Caring Together's work with young carers.  
Or click here to learn more about how you can give your support.