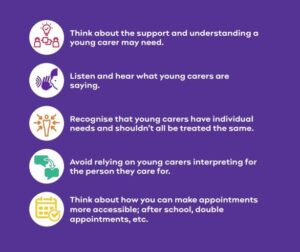 Young carers say they feel invisible and often in distress, with up to 40% reporting mental health problems arising from their experience of caring.
Young carers should not feel they are struggling to cope on their own. And that is why Caring Together are working with a NHS England and NHS Improvement campaign to show GPs how they can make a difference to young carers.
More than 400 carers aged five-to 25 have given their thoughts on how GPs could make a difference to them.
From these thoughts the NHS England and NHS Improvement Young Carer Health Champions produced a final list of the top five tips. These are being shared nationally and Caring Together are producing mouse mats and leaflets for local GPs surgeries to help spread the word.
We have also worked with young carers and young adult carers to produce short videos with the tips, and why they matter so much.
One young carer told us, "If a GP could recognise my individual needs and be able to help others understand those needs, it would lift some weight off my shoulders."
Another said, "If GPs realised not all young carers are the same, I would have gotten help with my mental health sooner."
The top five tips are:
Think about the support and understanding a young carer may need.
Listen and hear what young carers are saying.
Recognise that young carers have individual needs and shouldn't all be treated the same.
Avoid relying on young carers interpreting for the person they care for.
Think about how you can make appointments more accessible; after school, double appointments, etc.
View young carers giving the top tips for GPs