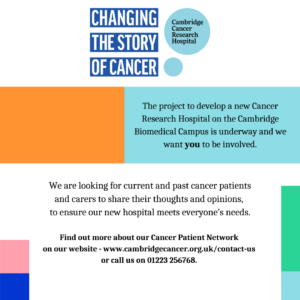 Cambridge University Hospital NHS Trust (CUH) are looking for current and past cancer patients and carers to join a new Cancer Patient Network. The network will be involved in the project to develop a new Cancer Research Hospital on the Cambridge Biomedical Campus.
CUH has had a Cancer Patient Partnership Group (CPPG) for 10 years and its members, who have been closely involved in planning and improving cancer services, are now an essential voice in designing the new Cambridge Cancer Research Hospital (CCRH). The new Cancer Patient Network will strengthen this involvement.
CUH are keen to hear from individuals including carers with a wide range of needs regarding the difficulties they have in accessing hospital-based care and the barriers they face to feeling comfortable and supported in a hospital environment.  For example, they would like to know:
What difficulties do you encounter with hospitals in terms of accessibility, digital technology, and communication?
What's most important to you when visiting a hospital?
What type of support do you need when accessing the hospital or during treatment?
Click here to find out more about the Cancer Patient Network and how you can get involved.
For further information contact  Lenja Bell, co-production lead for the Addenbrooke's Cancer Patient Partnership Group, on [email protected] or 07729 105550.