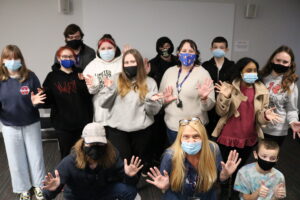 Do you have a passion for raising awareness of the issues young carers and young adult carers face? Can you empathise with and understand young people? We are looking for volunteers to help us with supporting the Norfolk young carers forum.
Jane Hawkins, our volunteer coordinator said this is a great opportunity to use your existing skills and develop new ones.
She added, "You will also meet new people and have the satisfaction of knowing you are making an important and valued different to someone's life and our work."
The forum is a lively and friendly bunch of young carers aged between 11 years old to 25 years old who meet on a regular basis, either face-to-face or online via Zoom.
They come together to raise awareness of the issues young carers face through campaigns and presentations, and take part in fun activities and days out.
You will be using your people skills, calm nature and good sense of humour to assist our awareness and voice coordinator with a range of tasks including creating quizzes and facilitating fun activities for forum members to contacting guest speakers to attend sessions.
If you are interested in finding out more about this exciting volunteer role then please contact Jane Hawkins, volunteer coordinator, telephone 07843 327485 or email [email protected]