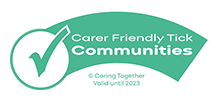 The Cambridgeshire County Council Libraries Team has been awarded our Carer Friendly Tick Award – Communities, in recognition of their work to identify and support carers.
The Council has 33 libraries across the county, including three mobile libraries, which are staffed by a team of 188 people.
The panel of carers, who assessed the submission from the Cambridgeshire Libraries Team on behalf of Caring Together, were impressed by the range of work being done across the libraries, and the impact that this has on both carers and those they care for.
The libraries team was awarded the Carer Friendly Tick Award for reasons including having a dedicated carers champion, more than 100 library staff attending Caring Together's carers awareness sessions and their promotion of national and local carers campaigns in their e-newsletter to 30,000 Cambridgeshire residents.  After attending the awareness sessions, a number of library staff identified themselves as carers.
The panel was also pleased to see that a reference copy of the Caring Together carers magazine is held in each library with extra copies for people to take away and take their time to read at home.
Cllr Tom Sanderson, chair of Cambridgeshire County Council's social mobility and inclusion committee, said "I am so proud of our dedicated libraries team who thoroughly deserve this award.  Our team always put the needs of others first and love to find ways to go the extra mile for the communities in which they work.
"Libraries have informal contact with residents which can lead to a recognition that they may need more support. All library staff have had awareness training and are approachable and empathetic. Additionally, all our libraries provide carers with a place to find information about the help and support available to them by hosting displays, meetings and events.
"Being a carer is a challenging and often lonely life, so it is absolutely essential that the hub of local communities – libraries – are a place carers turn to for support and information and a friendly ear.  Libraries hold regular events which carers can attend locally, giving them the chance to socialise, meet people and take part in activities.
"Our staff take great pride in always being there for others and this recognition will mean so much to all of them."
Andy McGowan, head of engagement at Caring Together, said, "Libraries play an important role at the heart of communities. Many users may well be carers, but unaware of the support available to them if they are looking after a family member or friend.
"The work the libraries are now already doing is really valued in helping make more people aware of what it means to be a carer. We are already talking to Cambridgeshire Libraries about ways we work to ensure more people are identified as carers and supported in their roles.
"With three in five of us likely to be a carer at some stage in our lives we are seeing more and more organisations in our communities recognising the importance of identifying and supporting carers of all ages.
"We are very pleased to see Cambridgeshire Libraries now having their work to identify and support carers recognised by the Carer Friendly Tick Award (Communities). We want to congratulate them on this and thank them for the work that they are doing which makes a real difference to carers.
"We hope that other communities, schools, colleges, universities and health organisations, will follow in this good work. They can develop their own ways to identify and support carers, and we are here to help them do this. As the number and awareness of carers grows this will be an ever more important part of making sure carers are given the recognition and help, they deserve."
Photo: Jill Nooij, carer awareness and voice coordinator, Caring Together, presents the Carer Friendly Tick Award – Communities certificate to Gary Porter, head of libraries, archives and culture, Cambridgeshire County Council and Councillor Tom Sanderson, chair, communities, social mobility and inclusion.
Read more about our Carer Friendly Tick Awards and how your organisation can support carers