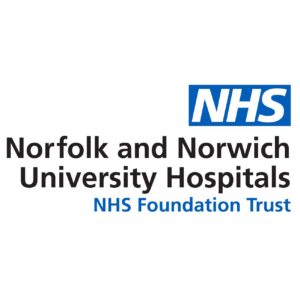 Norfolk and Norwich University Hospital is the first hospital in Norfolk to have been awarded Caring Together's Carer Friendly Tick Award – Health in recognition of their work to identify and support carers.
And the hospital has been praised for the work it is doing to recognise the important role played by people who look after a family member or friend.
Andy McGowan, head of carer services at Caring Together said, "If someone who is normally looked after by a family member or friend goes into hospital, the carer's role being recognised can make a big difference – to the patient, to the carer and also to those treating the patient.
"The way that Norfolk and Norwich University Hospital have recognised this and have in place a range of measures to identity and support carers, as well as involving them in the care provided for the person they look after.
"It is appropriate that they are receiving this award shortly before Carers Rights Day on 26 November. We will be delivering carer awareness training to a group of staff across the hospital on Carers Rights Day as they continue their work with carers."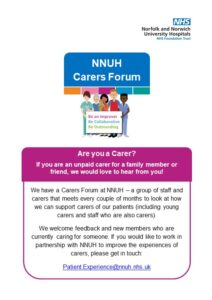 Ruby Allen, patient engagement facilitator in the hospital's patient engagement and experience team, said, "We are delighted to have been awarded the Carer Friendly Tick award.
"This has been awarded at a time when we have a new team in place who are committed to improving support for carers at the hospital, are about to launch our new Carers Policy and are going to be reconvening our Carers Forum in the new year.
"Our aim is to diversify and increase our Carers Forum membership, so we would welcome carers to contact us if they would like to know more."
The hospital have a published carers policy in place which includes having initiatives such as a clinical lead for carers who regularly updates both nursing and patient experience groups about carer initiatives.
A carers partnership agreement recognises the carers perspective and involvement in looking after the person they care for, including in what happens when they are admitted to and leave the hospital. The carers agreement and passport are on the hospital's website. Carers are given opportunities to express concerns and carers have reduced parking charges and a discount at the hospital canteen.
The hospitals application to be awarded the Carer Friendly Tick was assessed by a group of carers.
The Carer Friendly Tick Award was originally developed for education by young carers from Caring Together's Norfolk Young Carers Forum (NYCF) project. The success of this meant the awards have been rolled out across Norfolk, Peterborough and Cambridgeshire to now include education, community, health and employer awards.
These recognise the valuable work done in identifying and supporting carers carried out by each type of organisations.
For more information about the Carer Friendly Tick Award please visit caringtogether.org/carer-friendly-tick or email [email protected]
If you are interested in being part of the Carers Forum at the Norfolk and Norwich University Hospital please email [email protected]