Congratulations to Norfolk and Norwich University Hospital NHS Foundation Trust (NNUH) on once again receiving our Carer Friendly Tick Award – Health.
The award recognises the work the trust continues to do to identify and support unpaid carers who look after family member or friends.
Nancy Fontaine, chief nurse professor at the NNUH said, "The award gives adult and young carers assurance that the teams at  NNUH have continued to build on the engagement and the co-design of processes with carers, demonstrating we truly listen and work on the improvements together.
"We could not have progressed this far without our cadre of carers working as our critical friends and we value all of their feedback and their time, which has been exceptional in providing the right direction for the organisation. We are very grateful for their input and will continue to work in harmony with all carers to improve the experience of care."
Belinda Jones, awareness and voice team manager at Caring Together said, "The trust first achieved the Carer Friendly Tick Award – Health accreditation in November 2020. We are now delighted to award the trust with their two-year renewal for the Carer Friendly Tick Award for Health. We would like to commend the patient experience team- along with the trust as a whole, for their continued commitment to ensuring that all unpaid carers are recognised and supported at the earliest opportunity."
A panel of carers assessed the submission from the hospital. The panel were impressed by the range of work being carried out by the hospital, and the impact that this has on both carers and those they care for.
The trust's work to identify and support carers includes:
staff with a variety of roles have taken a lead on supporting carers
the trust's carers forum has been involved in updating the carers agreement
the trust's patient experience and engagement team have actively engaged with young carers
carers information board within the hospital and information on their website.
Carers being identified by health and care settings has benefits to the carer, the person they look after and enables staff to fulfil their roles more effectively.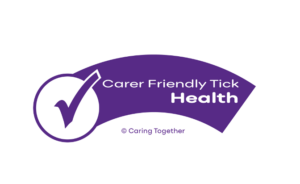 The Carer Friendly Tick Award was originally developed for education by young carers from Caring Together's Norfolk Young Carers Forum (NYCF) project. The success of this meant the awards have been rolled out across Norfolk, Peterborough and Cambridgeshire and now includes community, health and employer organisations. The awards recognise the important role organisations have to play in ensuring carers of all ages are recognised and given the support they need.
For more information about the Carer Friendly Tick Awards and how your organisation can support carers see caringtogether.org/carer-friendly-tick or email [email protected]