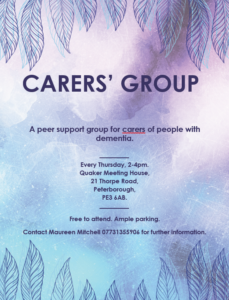 If you live in the Peterborough and carer for a family member of friend with dementia, then we have news about groups that are could well be beneficial for you.
Two new weekly support groups are taking place at the Quaker Meeting House, 21 Thorpe Road, Peterborough, PE3 6AB.
The two new groups are:
Memory Matters, a new activity peer support group for people with dementia, will start on Friday 4 February 2.00pm – 3.30pm
Carers group, a peer support groups for carers of  people with dementia, takes place every Thursday 2.00pm – 4.00pm.
Both groups are free to attend.
Please contact Maureen Mitchell on 07731355906 to find out more.
Click here for a Memory Matters flyer [PDF, 109kb]