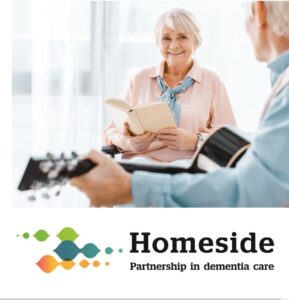 We recently had a speaker from the Cambridge Institute for Music Therapy Research (Anglia Ruskin University) at our Shelford Hub and there was interest in the type music and reading programmes mentioned.
There is now a piece of research being done on the effects of music and reading activities for people living with dementia and their carers and you may want to get involved.
You can take part in this study if:
you or your relative have a diagnosis of dementia or show signs of dementia
you are or you have a carer who is a family member
you live together at home.
This research is being done by Homeside and the Cambridge Institute for Music Therapy Research at Anglia Ruskin University.
The music and reading programmes will:
Be tailored to your individual preferences and needs
Offer opportunities to share meaningful moments together
Offer opportunities to try to improve skills
Give opportunities to sing together, listen to music and stories to dance, to play music, to read and to communicate with each other
Support you to use reading and music in your daily life.
Previous research indicates music and reading can increase wellbeing, strengthen relationships and improve care. This international research will investigate this comprehensively and is being supported in the UK by Alzheimer's Society.
People taking part will be allocated to a music programme, reading programme or a control programme (no programme, people who are allocated to the control group will be able toa ccess their choice of the reading or music programme after the study free of charge). The programmes are designed to be delivered by family caregivers who will have training in their own homes – face-to-face or remotely depending on their circumstances.
You can download a leaflet about this by clicking here [PDF, 1MB]
If you would like to take part, or simply to have more information, contact Dr Ming-Hung Hsu or Dr Jonathan Pool on 01223 695401, [email protected] or at www.aru.ac.uk/homeside