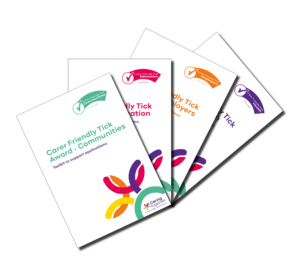 With three in five of us likely to become a carer – with responsibilities for looking after a family member or friend – at some point in our lives, more and more organisations are understanding the benefits to them of identifying and supporting the carers they have.
More than 50 organisations covering employers, education, health and community organisations have now been awarded the Carer Friendly Tick Award. And we now have toolkits available to help organisations put in place the standards needed to get the Carer Friendly Tick Award.
Head of carer services Andy McGowan said, "What we are seeing is that more organisations are realising being carer friendly makes a real difference to them as well as the carers they have.
"There are a range of specific benefits to them. To give just a few examples. Ensuring pupils are identified as young carers early minimises the impact on their education. Health organisations being able to involve carers in the care of the person they look after helps that care to be delivered more effectively. And employers understanding their employees needs as carers means they fulfil their roles as both an employee and a carer more effectively.
"The Carer Friendly Tick Awards gives organisations a way of ensuring they can identify and support carers in a way that is relevant for them."
This toolkit explains the standards that need to be met, and gives guidance on how these can be considered and met, including examples from other organisations who have successfully complete the Carer Friendly Tick Award for that category.
Whether you are looking at the health, employer, community or education award you can talk to us about the best ways for you to be carer friendly and work through meeting the standards, including recognising all you already have in place.
Some of those who have already gained the Carer Friendly Tick Award have given their feedback:
"The toolkit was extremely easy to use and follow, it gave great insight to the Award and what is needed to achieve. Without the toolkit to support completing our application, I don't believe we would have been able to put forward such a strong application as we did."
"I think the most beneficial thing about achieving the Carer Friendly Tick Award has been the identification of more carers that we may not have known about."
"Something that has been really lovely to watch is how our carers have bonded together as a group."
"We found the awareness training useful. This will always be revisited during safeguarding training moving forward – pointing out that carers are a vulnerable group."
If you want to know more about your organisation becoming carer friendly and how you can get the Carer Friendly Tick Award, including how you can make use of our toolkits, please contact us at [email protected] or on 0345 241 0954.