George Smith, a member of the Norfolk Young Carers Forum, was the Norwich City Football Club Community Hero for their fixture against Sheffield United on Saturday 25th January.
George, 12, is a young carer for his dad Mansel and was nominated by us for his support to his family and for being a valuable member of Norfolk Young Carers Forum.
George joined the Norfolk Young Carers' Forum when he was 10-years-old and has since shared his own experience and issues that young carers face at awareness raising sessions, including last year's Young Carers' Awareness Day event.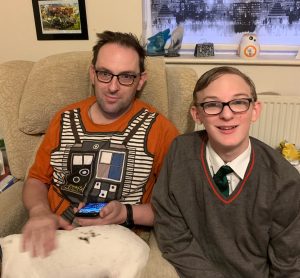 "At first I was nervous to share my experience, but it's important to let people know young carers' stories," said George. "Being a part of Norfolk Young Carers has helped me a lot with my confidence as I now feel confident enough to talk in front of people."
Mansel has five herniated discs in his spine which presses down on his spinal cord, causing limited mobility and use of a wheelchair.
"George helps me at home with caring and still does well at school so I'm extremely proud of him," he said. "My wife is my main carer but when George is home she can take a break. He helps with household work and has even learnt to cook with my wife so he now knows some recipes."
Hannah Clay, Fundraising and Engagement Manager at Carers Trust Cambridgeshire, Peterborough, Norfolk, said: "Since George has joined the Norfolk Young Carers' Forum, he has always enthusiastically joined in with a variety of activities and helps voice some of the other young carers' issues when they don't feel able to.
"He often worries about his dad when he is not at home but has demonstrated maturity beyond his years around his school work and his caring role and we think George is a hero not just for the community, but for young carers everywhere."
George added: "It feels weird to be nominated but in a good way! I just want to say thank you for Hannah and her team for nominating me and giving me this opportunity."
Young Carers Awareness Day takes place on Thursday, January 31, and this year their aim is to raise awareness of the impact on a young carer's health and wellbeing and to improve support and understanding for young carers, like George.