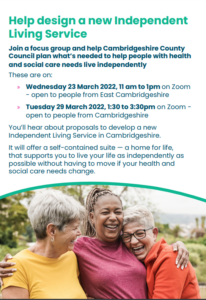 Health and care champion, Healthwatch Cambridgeshire are helping Cambridgeshire County Council find out what you would like from an Independent Living Service – either now or in the future.
The Independent Living Service involves building new self-contained homes for life for people with health and care needs. The new homes plan to help people live independently and stop them needing to move if their health or care needs change.
If you are interested in getting involved in shaping the design of the new homes, then you can join one of the online via Zoom focus groups.
Wednesday 23 March 2022, 11.00am to 1.00pm – open to people from East Cambridgeshire
Tuesday 29 March 2022, 1.30 to 3.30pm – open to people from Cambridgeshire
You may have ideas on how the home is laid out and what features you would like it to have, such as height adjusted kitchen units, a wet room and technology to help you do things like open curtains and turn on lights.
The Council are also interested in the type of social space you would like for meeting up with friends, family and other tenants.
Click here to find out more and book your place. Or call Healthwatch Cambridgeshire on 0330 355 1285.
Download the Independent Living Service focus group flyer [PDF, 784kb]
You will receive a £10 Love2Shop voucher as thank you for taking part.