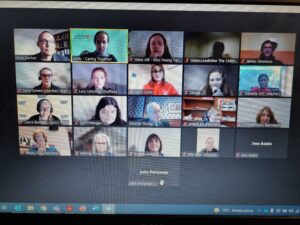 Young carers and young adult carers have met with member of the House of Lords. And have been told by Lord Young the peers hearing their experiences were "lost in admiration for what you have done" in their caring roles.
The group of Peers also spoke of the need to ensure changes are made to the identification and support of young carers.
The meeting held this week on Zoom was organised by Barnardo's and Caring Together with young carers, young adult carers and representatives of Gloucestershire Young Carers and Sheffield Young Carers also contributing.
The carers spoke powerfully of their experiences including:
How they had been caring for a family member since they were in the early years of primary school.
The delays in being identified as a young carer and, therefore, the delay in receiving support.
The impact of their caring roles on their education and social lives.
How they had needed to 'grow up quicker' than their friends due to their caring responsibilities.
Not being listened to by medical professionals.
How they provide emotional as well as practical support for the people they care for.
Head of engagement at Caring Together, Andy McGowan, also showed findings of a snapshot survey of young carers carried out by Caring Together which highlighted:
On average young carers were caring for three years before being identified.
Some young carers had been caring for more than 10 years before receiving any support.
Only 54% of young carers reported having had a young carers' assessment.
Young carers not being identified through hospitals or mental health services.
The Peers told the carers that hearing them speak of their experiences was far more powerful than reading information in reports and thanked them for spending the time to talk to them.
Baroness Pitkeathley also spoke about how the session highlighted the importance of the work done by charities in supporting young carers and the gap in provision.
Talking about the meeting Andy McGowan said, "We are very grateful to the peers who have listened to the young carers and young adult carers as they consider the Health and Care Bill currently going through Parliament.
"And we were encouraged by their openness to recognising the unmet needs of young and young adult carers.
"For young carers to have the support they need it is essential the voices of young carers are heard at all levels of Government. We really appreciated the way the young carers and young adult carers spoke so powerfully of their experiences."
You can view the information presented to peers below:
Caring Together Young Carers snapshot poll – Feb 2022 [PDF, 190kB]
From caring to support – we still need to close the gap for young carers [PDF 158kB]