Carers UK and 91 organisations representing unpaid carers, older people, disabled adults and children have joined together to call on the Work and Pensions Secretary to recognise the financial impact Covid-19 has had on people caring round the clock for family members and friends.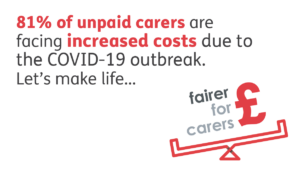 The open letter, sent today to the Work and Pensions Secretary, Rt Hon Therese Coffey MP, and Chancellor, Rt Hon Rishi Sunak MP, calls for better financial support for unpaid carers who have faced rising costs during the pandemic. Caring Together is one of the organisations that has signed the open letter.
Despite the huge contribution made by unpaid carers to society, too many face financial hardship. At least 1.2 million carers are now living in poverty across the UK, whilst, on average, 600 carers a day are having to leave work in order to provide unpaid care.
The coronavirus crisis has only compounded the challenges for carers. 81% are spending more money during the coronavirus outbreak – rising costs include domestic bills, paying for additional care and support services, buying equipment to adapt homes, and/or purchasing technology to help with caring.
Carer's Allowance, the main benefit for people caring unpaid for family or friends, remains the lowest benefit of its kind at just  £67.25 per week (2020/21 rates). Because of the low level of the payment and other entitlement conditions, including an earnings limit of just £128 week, many struggle to make ends meet.
Carers UK has for many years been campaigning for better financial support for unpaid carers through its Fairer for Carers campaign. To alleviate the financial hardship that so many unpaid carers face, they are urgently calling for:
An additional supplement to match increases in Universal Credit that have rightly recognised the challenges people on lower incomes have during the pandemic of additional costs. They are also calling for accompanying rises to Carer Premium and Carer Addition, and for this payment to be made to carers with an underlying entitlement to Carer's Allowance, so older carers on low incomes can also benefit.
For the earnings limit for claiming Carer's Allowance to be raised, to ensure those juggling work and care on low pay also receive support. The current earnings threshold does not align with the National Living Wage (NLW), meaning a carer can only work for less than 15 hours per week without losing eligibility to Carer's Allowance. The earnings limit should be raised from £128 a week to at least £139.52 for 2020/21 and should be linked to the NLW in future years.
Helen Walker, Chief Executive of Carers UK, said:
"The coronavirus pandemic has only exacerbated the ongoing financial struggle for unpaid carers, with 81% facing rising costs during the crisis and many relying on a limited income to meet those costs.
"Those receiving Carer's Allowance are also providing many more hours of care – on average an additional 10 hours every week – without the hope of a break or outside support as services remain closed or reduced in capacity.
"Unpaid carers remain essential in supporting our health and care systems and deserve better support. The Government must acknowledge the additional practical and financial strain that has been placed on them over the last four months and make Carer's Allowance Fairer for Carers."
Read a copy of the letter here or find out more about the Fairer for Carers campaign here.