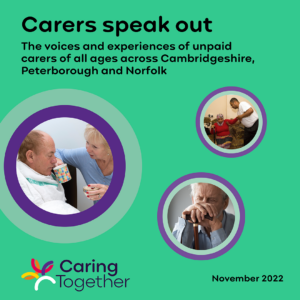 Many people looking after family members or friends are reaching breaking point. And, ahead of Carers Rights Day, carers have spoken powerfully of the demanding and difficult situations they face on a regular basis, and how they are reaching crisis point due to not getting the support or recognition they need.
With Carers Rights Day on Thursday 24 November, we are sharing a report highlighting the stark challenges faced by unpaid carers of all ages. The report also makes recommendations as to what needs to happen at both a local and national level to improve carers' lives. This is being shared with local MPs, Government ministers, local authorities and others.
While in theory carers do have a number of rights, these are often not the reality of what they experience. We are calling for urgent action to be taken both locally and nationally to address the key challenges carers face.
One of the carers to have spoken out is Steve Acklam. He has said, "It was only as I became hopelessly exposed to the emotional, financial and physical challenges of looking after my wife that I accepted I was a carer.
"I needed support in every respect, yet the process for achieving any financial support, for example, is at least as draining as caring itself."
He said, "Being a carer is hard. Unless you have been in this situation it is impossible to understand exactly how many difficulties carers face. Every day more and more of us are becoming carers, or someone being cared for. This affects or will affect us all.
"Sadly, and especially at this time of political turmoil, caring never feels to receive the priority it deserves.
"Carers do not have the luxury of being able to wait for this to change. Carers and those they care for need help now. They need help that is appropriate, easy to access, enshrined in law, and is given freely."
In the report we highlight four key messages that came through very clearly from carers:
Caring continues to have a hugely detrimental impact on the health, wellbeing and lives of unpaid carers of all ages.
Carers feel that they are not recognised, nor is the vital role that they play in supporting the person/people they care for.
Carers need there to be better communication from and with professionals supporting the person they care for.
Carers and the people they care for are not getting the support that they desperately need.
And we are calling for action to be taken at national and local levels to address each of these areas.
Miriam Martin, chief executive of Caring Together said, "Seeing what carers have said about their experiences is hugely powerful – and it makes clear how much needs to change.
"As a charity we are doing all we can to support carers of all ages across Cambridgeshire, Peterborough and Norfolk. But a range of fundamental changes are needed across society, including in health care and social care, if carers are going to get the support and recognition they need.
"The coming months are likely to present even more challenges for the thousands of people looking after a family member or friend – from the pressures on health and social care budgets, to the continued cost of living pressures being faced by families.
"This is why carers need to be at the front of all of our minds and there is a real need for both a local and national response if carers are to get the support that they need and deserve."
The views of carers for the report were drawn from the Carers Speak Out online platform that has been open since earlier this year.
The page remains open and gives carers and former carers a place to talk about the difficulties they face (or faced in the past) and say what needs to change. To find out more see www.caringtogether.org/carers-speak-out
You can also visit www.caringtogether.org/ to see details of the support Caring Together have on offer for carers across Cambridgeshire, Peterborough and Norfolk.
Click here to download the Carers Speak Out report [PDF, 4MB]